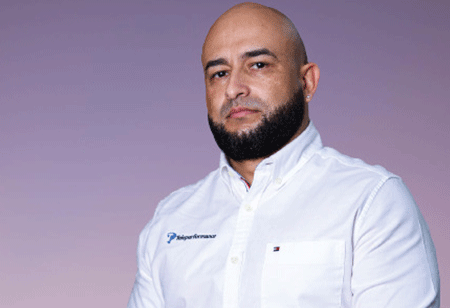 A dynamic, persevering, and people-centred business leader Fran-cisco Lara, the Chief Executive Officer of Teleperformance Phil-ippines, has over 25 years of exclusive ex-perience in not just driving global organiza-tions but also taking their people on a journey to success. He is a man of strong ideologies who leads with a very simple thought of help-ing people. Francisco or 'Sisco', as he is fondly called, has been leading Teleperformance for seven years with a core vision to create the best possible workplace for its employees and build new ways to empower its employees so that they keep growing with the company.
Sisco began his professional journey in a cubicle and with a telephone in a call centre. Gradually, he started building his expertise in communications, tech support, and customer service and grew within the sector in operational excellence and sales. When he moved into the sales industry, Sisco excelled in multiple roles in different organizations from Sales Manager and Floor Manager to Operations Supervisor and Quality Manager. Over the years, he has worked across Florida in the US, Bogota in Colombia, Dominican Republic, Costa Rica, Honduras, Belize, and now the Philippines, meeting new people and learning different ways to invest in his employees to build a path to business success.
With significant international experience, Sisco joined Teleperformance in the year 2015 as Director of Operations. His unrivalled ability to develop strategic plans to increase efficiency within the corporation got him to the position of Regional Director of Operations. There he coached two countries, four sites, three site operations managers, and 10 account managers to strategically enhance the growth of the market. He has also been the Vice President of Digital Integrated Business Services in Latin America where he developed a strong Digital Culture within the region bringing innovation, cutting-edge technology, and digital expertise to clients. In 2019, he was promoted to the role of COO of Teleperformance Central America South and Caribbean leading successfully the execution of recruitment, operations, service delivery, finance, strategic planning, IT, legal/compliance, and internal HR. Currently, as the CEO, Sisco is growing Teleperformance Philippines with influential leadership strategies and creating a simple, faster, and safer ecosystem for his people and clients. Let's hear it from him.
How is Teleperformance a people's organization? Tell us about its position in the market.
Founded in 1996, Teleperformance Philippines is an organization of about 63,000 employees today with 24 delivery centres. Our best forte is our people. It is something that we are not willing to negotiate; for us, our people come first and everything else comes after that. We make huge investments when it comes to training, development, support, and listening. We have received our fifth consecutive Great Place to Work certification. Moreover, we also evaluate within our organization how employees feel about the culture and the environment and what we can do to make things better. We are always focused on finding new ways to empower our employees & clients which automatically empowers the organization.
Teleperformance globally is the number one company for Business Process Outsourcing (BPO) Services and that is based on the trajectory of our growth. In the industry, people tend to look for people that have been grown and built through Teleperformance. The reason being our operational excellence, our development, and the way we invest in our priorities. We have a focus on clients and their transformations. When you go ahead and do things with integrity, professionalism, respect, innovation, and commitment and you merge it with the values of your clients, then you build a culture that is definitely for success. We are very aggressive about year-over-year growth, which is visible in our numbers.
Elaborate on the technology framework built within the company's solutions.
When it comes to technology, people here tend to use it as a marketing tool. We are simple, faster, safer, and cost-efficient for our clients and for the interactions that we have with our employees. This means that every investment that we have done in technology is to cover security and to guarantee the efficiency of the operations. For the BFSI vertical, we have the most accurate OCR (Optical Character Recognition) tool where we can go ahead and build efficiencies from the back-office perspective of the journey. On the financial vertical, this tool is 92 percent accurate. Not only that but in analytics, we have Teleperformance interactive tools where it allows us to provide coaching through interactions with agents. It is extremely efficient not only for our clients but for the development of our employees. Our approach is most effective at making technology a facilitator of our operations.
"We are always focused on finding new ways to empower our employees and clients which automatically empowers the organization"
Tell us about your leadership approach.
I believe the most important approach is transparency and clear communication. When you have those two verticals, you are able to live under the best work mentality and culture which is about constant improvement. I never forget what is like to be in a cubicle so that I can relate to every situation not only with our employees but also with our clients. The interactions that we have on a day-to-day basis help us to achieve constant and proper targets above expectations. Teleperformance Philippines operates at 120 percent of all our targets assigned. So, when you improve constantly on a 30-day basis, you become 30 times better. And this allows you to build a bench for the people that needs to grow because they are not only doing things at a more efficient pace, but they are able to go ahead and pass through that knowledge through a habit of improvement that they have developed under the culture that is set by the company.
"I never forget what is like to be in a cubicle so that i can relate to every situation not only with our employees but also with our clients"
Tell us about your CSR initiatives. How do you encourage your employees to participate in them?
We are a company that lives to leave a footprint across the world. Within this initiative, we have an assigned target that we look forward to and place changes within Teleperformance Philippines. We are working on a new project where we want to go ahead and transform the lives of current students through scholarships and are constantly evolving and building new strategies to do it. Moreover, across the world, we have led initiatives to support people through the Covid tragedies and the Russia and Ukraine war. Throughout this situation, our employees were kept on our payroll. This proves that we work not as an organization but as a family.
What are the future market opportunities that you look forward to investing your time in?
Throughout the pandemic, the biggest thing that came up was the work-from-home initiative. To perfect the situation, we worked on two different scenarios. First, we built our Cloud Campus methodology which allows us to provide constant time to coach and support our employees. We also started microsites especially designed for work-from-home-culture providing all the support for people to have proper communication and be able to go to a location and talk with their HR representative on any issue that they might have. Having these microsites at each location has been a huge advantage. Moreover, we are investing in building tiger teams that can travel across the world to operate as one company. This will add a huge value not only people.
Based on your professional experiences, what would be your advice to budding industry leaders?
It is very important to establish a culture that is not just based on performance but is also fun-oriented. I believe it is totally different when you work for a company and when you belong in the environment of that company. It is not just a job; it is a way to succeed. So, the advice to budding industry leaders is that keep your priorities around your people, provide them the value they deserve, and invest in giving them the right tools so they can be successful in their endeavours.
Francisco Lara, CEO, Teleperformance Philippines
Sisco is a very experienced and competent leader and has always strived to be the best through different times in his career. He has undoubtedly been at the top executive level within his respective regions, not only within the industry but among several markets. Under his leadership, Teleperformance was recognized as the fourth Great Place to Work in Central America and the Caribbean. The company was also awarded as one of the Philippines' Best Workplaces, one of the Best Workplaces in Asia, and a Great Place to Work for the fifth consecutive year in 2022.
Awards & Recognitions: Awarded as the Best Leader by the employees of Teleperformance Dominican Republic.