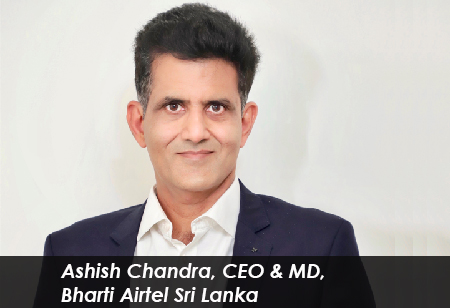 The telecommunications industry is at an exciting juncture. With the commercial 5G rollout nearing, the sector is expected to undergo a lot of transformation soon. Combined with the ongoing digital transformations and futuristic technology revolutions, it marks the dawn of a new epoch that will be more connected and global. According to ReportLinker, the global telecom market is expected to grow from $2,642.14 billion in 2021 to $2,866.61 billion in 2022 at a CAGR of 8.5 percent. The market is expected to maintain a similar growth pace for the next few years and reach $3,818.36 billion in 2026. The favorable conditions bring a mixed bag of opportunities and challenges to the telecom industry.
We recently got in touch with Ashish Chandra, CEO & MD, Bharti Airtel Sri Lanka. He was happy to drive us through the challenges and opportunities ahead of the telecommunication industry. Ashish possesses two decades of rich experience in the Indian telecommunications industry. Before joining Bharti Airtel in 2020, he left a successful trail of various leadership roles with India's top telecommunications companies. Ashish has a degree in Mechanical Engineering from the Malaviya National Institute of Technology and did his MBA from the Podar Institute of Management. He has also attended Leadership programs at IMD Business School, Lausanne; IIM, Ahmedabad; and the Indian School of Business, Hyderabad. Below is an excerpt from the exclusive interview.
In conversation with Ashish Chandra, CEO & MD, Bharti Airtel Sri Lanka
The telecom industry is swiftly moving towards 5G. What are the changes and transformations the industry is going through?
There is a lot of buzz around 5G, thanks to its many advantages and promise of cost reduction, making it a critical move for the industry in the subcontinent, particularly in India. Launching 5G would be the most significant leap in telecom technology over the past 25 years. I say this from both industry and customers' perspectives.
There will be enormous investments around the spectrum auction and other capital expenditure from the industry perspective, as this next-generation wireless network technology could be a major quantum leap in customer experience, owing to the speed and low rate latency 5G offers. From 200 milliseconds (latency rate) for 4G, we go down to 1 millisecond with 5G, hence a faster response time. Then there is the concurrency of using numerous devices per square kilometer. These aspects significantly impact the applicative value of 5G.
On the flip side, the consumers will be exposed to the next level of user experience with anything internet. From improved virtual conferencing facilities using mobile phones to better decision making in automated vehicles through low latency 'Edge.' Additionally, 5G will offer an enhanced gaming experience since gaming applications that take up massive storage and processing power can be fed to the cloud.
5G will also engender industrial applications with concurrency while breathing life into deploying robotics. The same could bring more connectivity into smart cities with larger device densities. On the other hand, 5G can also harness more value from futuristic technologies like artificial intelligence (AI) and machine learning (ML) across industries.
What are the latest skills the industry is seeking? Which areas should professionals focus on?
The skill requirements in the telecommunication industry can be divided into technical skills and general skills sets. The former has already been undergoing changes over the last few years, with the focus mostly pointed towards hardware, including applications that run on hardware. However, with 4G and 5G coming into play, hardware is transitioning into software, and the software networks would flourish with 6 G's entry. Hence, I believe more software and application knowledge would be required for employability on the network front.
On the other hand, general soft skills or skills in marketing, sales, distribution, accounting, finance, and HR, among others, could witness a massive change, especially in the way products are sold to customers.
With 5G, the core focus will shift from establishing connectivity to applications. Solution-mindset is a considerable change bound to happen as well. For instance, the entire process from purchasing a SIM card, downloading a Zoom app, to presenting a meeting on the platform will change as the consumer needs end-to-end solutions from telecommunication service providers. Telecom services providers will be required to provide holistic telepresence—a comprehensive solution promising to chip the consumer's visits to multiple service providers, downloading multiple apps or software.
Additionally, with the digitization trend flaring across the industries, the telecommunication industry will become a core element in helping other industries to transcend digitally. As a result, large digital applications will become vital, and there will be a massive requirement for people who speak digital fluently.
What would be the major challenges the industry will be up against after the deployment of 5G?
The more significant challenge the telecommunication industry will face will be the need for acceleration of return on investment, which means creating more use-cases out of 5G that are beneficial to both consumers and the industry. The initial return on investment may not be high, but the return tends to come after a while, similar to 3G and 4G.
Another critical aspect is robotic process automation (RPA), inclusive of Artificial Intelligence and Machine Learning (AI & ML). Beyond the obvious benefits like reducing humanoid errors, technology adoption helps telecom companies in predictive maintenance and self-healing networks
Currently, the penetration of 5G handsets is about 10 to 12 percent, depending on countries across South Asia. So, the second big challenge would be bringing more 5G handsets to people. Otherwise, the retail customers would miss out on the benefits of 5G, and it will slow down the penetration. Rewinding four to seven years, the same scenario persisted for 4G with high-priced handsets. T adoption increased when the handsets' prices came down.
Where is the industry positioned amidst the ongoing digital transformations?
The telecommunication industry is one of the pioneers of digitizing manual processes. Right from onboarding customers to providing lifetime services, everything is paperless today. A few clicks in the app save a lot of time and hassles for customers. This experience is creating impacts in multiple ways. It enables customers to access telecom services whenever and wherever they want while also improving the turnaround time significantly.
Another critical aspect is robotic process automation (RPA), inclusive of Artificial Intelligence and Machine Learning (AI & ML). Beyond the obvious benefits like reducing humanoid errors, technology adoption helps telecom companies in predictive maintenance and self-healing networks.
On the other end, it also helps telecoms offer a personalized experience to the customers by providing products and services relevant to them based on their past and current usage patterns. It helps minimize expenditure while also improving efficiency virtually.
Lastly, telecommunication companies encourage enterprise businesses by powering digital marketplaces. That's the destination the telecom industry is headed towards, especially empowering small and medium businesses with ERP systems.
Where is the subcontinent's telecommunication industry headed?
Connectivity stands as the most important part of the current epoch. It was reflected largely during the peak of the COVID-19 pandemic. Telecommunication services became the oxygen for business continuity. It's no wonder that connectivity today is the most important part of everybody's life. Hence, the future is bright for the subcontinent's telecommunication industry. Despite the lack of fiber/broadband connectivity in many suburban and rural areas, the mobile and the telecommunication industry continues to be the only source of connectivity for the masses in our subcontinent.
Your local market has now transitioned into a global digital marketplace, and telecommunications keeps you connected to it. Whether it's entertainment, healthcare, education, financial services, or any other industry, everything rides over telecommunication, making it a critical channel carrying any service to the end consumers.
On another note, 5G is all set to encrust the subcontinent. Hence, going forward, one of the key focus areas for the telecom companies will be to accelerate the adoption of 5G among consumers, reap benefits, and eventually get a return on the investments.
You possess more than 25 years of professional experience in the telecom industry. Tell us about your leadership approach.
My leadership approach has always been people-centric and about having happy customers. I was groomed to place the focus on customers. However, the first step towards making customers happy is creating happy employees. Happy employees can create a happy world around them, and that's where the journey starts. I empower employees by providing them with a transparent, respectful, and resourceful work environment. Another aspect is giving them the power to make decisions. I believe productivity unfolds on many levels when you empower employees and support them when they take a stand. Also, we invest a lot in developing our talents. I also nurture a purpose-led leadership approach. Our purpose is to empower our customers with world-class telecommunication services to help them achieve their goals. Most of our operations revolve around this purpose, and my job is to align everyone with the same. People's productivity, happiness, and longevity go up many folds when they work with a purpose.