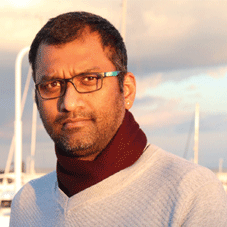 The semiconductor industry creates critical components for the technologies on which we all rely. As the influence of digital on people's lives and enterprises has grown, semiconductor markets have skyrocketed, with revenues increasing by more than 20 percent to almost $600 billion in 2021. This market's expansion can be attributed to the rising global consumption of consumer electronics devices. Additionally, the rise of AI, ML, IoT technologies, smart gadgets, Hi-Tech automobiles are opening new avenues for market expansion. Rajesh Nallapati (RaNa) is a commemorated figure with a plethora of expertise in IC Design & Engineering Services field. RaNa has grown through the ranks from being an engineer in several reputable organizations on the global front to leadership roles, and he is currently the steward of governance as the Vertical Lead at UST Global, a global digital transformation solution provider, addressing the entire engineering product development cycle from market feasibility to solution delivery. RaNa engages in an exclusive interview with CEO Insights Asia, wherein he enlightens us about his professional traits.
Throw some light on your professional background and experience. I've been in Semiconductors Engineering or call it ASIC/IC Design Engineering since the beginning of my career and I'm an alumnus of HARVARD Business School. My entire experience can be split into two parts- engineering and management. I began my career in engineering roles, working on the implementation of chipsets for Space applications, Wire- Less, Mobiles, Laptops, Networking chips, Digital TVs, and more for about five years in India and nearly the same length of time in Singapore. During this time, I developed an interest in moving beyond engineering roles towards Business management.
Incidentally, in one of the conferences in Singapore, I ran into an Engineering Services company that was looking for some focus on IC Design capability, at the same time I was looking for an opportunity to move to leadership, and this impromptu meeting resulted in my first steps into management beginning in Malaysia. I was able to contribute significantly to launching new engineering capabilities for my employer in global markets and developing teams to be sustainable and pursue the goal of being among top 3 engineering services providers in the function with well carved out strategy and tactical execution.
What have been some of the biggest turning points in your professional and personal lives?
I can broadly classify three major turning points in my career. To begin, in 2005, I moved to Bangalore and joined the R&D team in the early days of my career, where I had excellent managers, leaders, and colleagues who helped mold my work ethic and lay a good foundation for future growth prospects. Further, in 2009-10 moving to Singapore was a game changer for both my mindset and my entire outlook on the sector. Our team was closed during the recession in 2009 in India, leaving me with a considerable amount of free time and I decided that this was the best time for me to get married. I relocated to Singapore in engineering roles to gain experience working
overseas. New culture, learning, and adapting in new region where I learned a lot about leadership styles while working with Taiwanese, European, and USbased companies, which would provide the groundwork for the next role I'd embark on. Finally, in2015, I moved to Malaysia, where I took my first strides into management roles. I was fortunate to have support of outstanding leaders and colleagues who guided me and allowed me to take risks and produce outcomes. This phase was critical in putting the hustler in me to excellent use and provided an opportunity for me to put my coaching and persuading talents to the test, particularly with clients who trust me to deliver and individuals who look up to me for career guidance.
Tell us about your leadership style and governance approach.
My leadership style has evolved significantly for the better as I became more self-aware and learned through observations, feedback, bit of reading, and I hope to continue to evolve. My style reflects more of being pragmatic, participative, and free rein, and this approach also helps me focus on very essential aspects of governance for our business unit's sustainability, which are culture, effective control, and performance, but not limited to these. As they say, culture eats strategy for breakfast! It is critical that all new hires and existing employees fully understand the organization's culture and values to derive the most mileage from the opportunities that exist and have greater leverage to achieve consistent performance and have effective control or should we say checkpoints we bring value through our experience to mitigate or flag risks at an early stage or fail fast and learn, experiment with intent in all to accomplish the goals set. Every member of the team plays a vital role in the company's growth, and it is the responsibility of the leadership to communicate this through the channels that are available for them. The end goal is to ensure that every member of the team is aware of their role and the impact they have at an organizational level.
As an experienced industry leader and entrepreneur, what advice would you give to budding professionals in this domain? I've been an intrapreneur rather than an entrepreneur, and while I often exchange ideas with entrepreneurs to help each other, this generation is so aware and well-informed, with access to so much content, that I doubt they need any advice from us! Having said that, the fundamentals of leadership have remained the same over the years, regardless of the technological progress humans have accomplished, and with the invasion of AI, ML, Automation, and more in our lives, the human factor remains and yet to be replaced which I believe are "Empathy & Integrity," these are skills any aspiring leader could do well with. Leadership is a lonely place, it's good to be prepared and leave a trial!
"If I don't speak my mind, who would"
Rajesh Nallapati (rana), Vertical Lead, UST Global
Highly intrapreneurial management professional with a track record of launching and growing new technology/capabilities as a business unit (in multiple geographies) in global markets, as well as forming management teams for independent takeovers. RaNa has a comprehensive understanding of silicon engineering, project/program management, people, team leadership, and cultural sensitivities, which enables him to keep the business unit sustainable and meet YoY growth targets.
Hobbies: Repairing stuff to make them reusable, Badminton
Favorite Cuisine: Indian Veg
Favorite Book: Veyi Padagalu (Vernacular language -Telugu), Surely you are Joking, Mr. Feynman
Favorite Travel Destination: Leh & Ladakh (India),