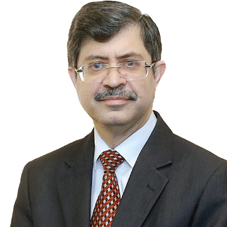 With three decades of strong skills in financial analysis, and the ability to analyze different business strategies and understand process weaknesses from risk & control perspectives & make suitable recommendations, Rohit Kumar, CRO, Al Masraf is spearheading the bank by developing internal controls to minimize risks and effectively identifying, analyzing, and addressing the potential risks to the business. He is instrumentally managing credit, market, liquidity, risk analytics, retail product programs, operational risk, BCM, information & cyber security, and regulatory & implementation of risk systems while ensuring alignment of group risk appetite, risk strategies & risk policies in line with bank strategies.
Prior to Al Masraf, Rohit held various senior leadership positions at First Abu Dhabi Bank, Bank ABC— operating across five continents, and ICRA (Moody's Associate Company) in different international markets. In each organization, he has been instrumental in undertaking several projects with leading banks & multilateral agencies across the globe in implementing their risk management systems, formulating business strategies, and evaluating due diligence. Apart from that, he has also served as a member of the Credit Rating Committee, an honorary Regional Director of the Abu Dhabi GARP Chapter & Chairman of the Risk Committee of the UAE Banking Federation for three consecutive years.
Throughout his journey, Rohit has showcased strong analytical, planning & managerial skills, and has a proven track record of building & leading strong multicultural teams with diversified talent pools. As a team leader, he provides transparency to management & strongly believes in the team approach.
Let's hear from Rohit about his journey and more. What has been your success mantra throughout the years?
Dreams don't just happen by wishing on them. There is no magic involved, only determination, hard work, and hard work complementing smart work. It is also very important to be disciplined not just in professional habits but in personal habits as well. It's demanding but rewarding. Apart from that, success depends on a person's ability to plan and execute ideas or proposals. And most importantly the ability to think before others. These mantras have helped me achieve several significant milestones in the past three decades.
How would you define Bank Al Masraf as an organization?
Al Masraf was founded in 1975 with the vision to strengthen relationships between UAE, GCC, and MENA countries and promote joint economic ventures among them. Al Masraf is owned by the Emirates Investment Authority, the Libyan Foreign Bank, and La Banque Exterieure d'Algerie, Algeria. It is the only federal UAE bank that enjoys a rating from Fitch and Capital Intelligence, which not many banks can talk about.
As the CRO, what methods have you adopted for evaluating the risks and deciding on control measures?
The role of a CRO has evolved over a period of time. A few years ago, the components of risk predominantly involved only financial risk in terms of Credit and Market Risk. But today, non-financial risks including Operation Risk, BCM, Information Security, Fraud, Data Protection, and ESG have gained importance. So, for us, it is crucial to understand the ways to protect the interest of our stakeholders; customers, shareholders, employees, and society, within our defined Risk Appetite. It is also important to enable the Bank to meet its objectives, thereby making balance an increasingly vital part of the role of a CRO.
How is the team built and what motivates them the most to ensure client satisfaction?
I strongly believe that a well-knit team is a key to success. And I have been extremely fortunate and blessed to have the opportunity to work with some of the strongest teams in my entire career which has been one of the key points in my success story. In my opinion, salary is an important component to attract talent. But for retaining talents, it is important to nurture teams, treat them with respect, provide them with learning and growth opportunities, listen to their ideas, trust them and also provide them with flexible working conditions.
I have successfully implemented IFRS nine project across 15 jurisdictions— one of the most complex projects being implemented by the banking sector
Tell us about some of the biggest milestones of your journey so far.
I have successfully implemented IFRS nine project across 15 jurisdictions — one of the most complex projects being implemented by the banking sector across the globe. I have designed the re-entry India strategy for a leading global bank having a global balance sheet size of $1trillion; developed enterprisewide risk management systems for five leading banks including an impact study on capital requirements. I have also developed & strengthened operational resilience during Covid-19 as a member of the Crisis Management Team.
Going forward, what are your visions for the future?
In the future, I aspire to join leadership boards of different companies and contribute to providing strategic inputs to help them excel and provide a better living for society. Apart from that, considering my passion for academia and my history of being associated with academic institutions, I would also be spending more time in academia and working with students.
Rohit Kumar, Chief Risk Officer, Al Masraf
A Qualified Chartered Accountant with all India merit, a Management Accountant & a Company Secretary, Rohit is leveraging his strong credit rating experience & dealing with Rating Agencies, Business Analysts, Regulators & Investors to strengthen the risk governance framework, link risk appetite with business strategies, risk policies & analytic framework, and restructure financial services & lead transformational projects.
Awards & Recognition:
Awarded Leading Risk Practitioners by Asian Bankers in 2016 for making a difference in the financial services industry