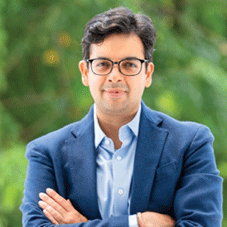 Saurabh Gupta
Managing Director and Head, Consumer, Retail, Healthcare & Financial Sponsors Investment Banking
An American economist once said, "Successful professionals are disciplined & consistent, and they think a great deal about what they do and how they do it". Saurabh Gupta is a successful investment banker who is known for providing the best financial advice that every stakeholder can trust. Saurabh is the Managing Director and Head of Consumer, Retail & Healthcare as well as Financial Sponsors Investment Banking at Maybank Investment Banking Group, with over 17 years of experience in investment banking. Over the years, he has advised multiple clients across ASEAN on transactions aggregating over 40 billion US dollars across mergers, acquisitions, divestitures, leveraged buy-outs as well as capital raising from the equity & debt markets. Having worked with some of the world's leading banking organizations including HSBC, Merrill Lynch, Bank of America and now Maybank, Saurabh has experienced different organizational cultures which have shaped his professional journey and leadership style. Under his aegis, Maybank's consumer, retail, healthcare and financial sponsors practice has witnessed tremendous progress and he aspires to leverage his experience to continue to reinvent himself and the business. Let's hear it from him.
What responsibilities do you shoulder in your role in Maybank?
I joined Maybank as one of the first employees in the investment banking team in Singapore and developed our regional strategy as we set out to establish our brand. My role has been extremely entrepreneurial with the responsibility to build out our sector franchise for consumer, retail, healthcare, and most recently financial sponsors. It has been a fulfilling journey over the last decade, and seeing the progress that we have made in the investment banking segment, especially in the sectors that I cover has been very rewarding.
Enlighten us about Maybank's impact & presence across the banking sector in Malaysia.
Maybank is the largest bank in Malaysia and the fourth largest in Southeast Asia with a presence across retail, corporate, and investment banking. It has consistently been ranked as one of the most valuable banking brands regionally and has had a leadership position in the investment banking league tables over the last decade. We have built deep sector expertise and led several landmark transactions in the region including Sunway Healthcare's capital raise from GIC, the Initial public offering for Mr. DIY, which was voted Malaysia Capital Markets Deal of the year in 2020 by various publications, and the sale of Shakey's Philippines which was awarded the Best M&A Deal in the Philippines in 2016 by The Asset. In addition to delivering shareholder returns, Maybank actively pursues a mission to humanize financial services, create a sustainable future and equitable transition for every stakeholder.
It has been a fulfilling journey over the last decade, and seeing the progress that we have made in the investment banking segment, especially in the sectors that I cover has been very rewarding
What are the valuable lessons you have inculcated from your previous experiences and how do you find them helpful in your current role?
Investment banking is not immune to disruption and the biggest lesson has been to evolve with the times in terms of the ideas we present, the way we run our deals, and the work environment we provide to our people. At Maybank, we actively endeavor to maintain a work-life balance and ensure that we prioritize the well-being of our teams. After all, a happy mind space is a productive one, and our team is our biggest asset; we strive to take good care of our people.
What has been the success mantra helping your operations so far?
Our clients trust us with some of the most important corporate decisions and hence it is essential to make sure we give them the best and the most unbiased advice. There are no shortcuts to success, and delivering an optimal outcome that is in the best interest of our clients requires a significant investment of my time in every transaction till the deal closes. A very disciplined approach towards the deals we undertake with a focus on the quality of advice over a volume of transactions has helped us stay true to our course. I have always tried to take a relationship-driven approach to engagements as opposed to a transactional one.
What would be your advice to individuals stepping into this space?
Investment banking continues to be one of the most rewarding and hence competitive professions to get into. My advice to anyone entering this industry is to treat this journey as a marathon and not a sprint. Remain sincere to the work and persevere through the long nights as these experiences help shape strong work ethics, build character and ensure future success. The satisfaction and adrenaline rush that comes from taking companies public, pitching ideas that help them grow, or completing a large takeover never gets old.
Saurabh Gupta, Managing Director And Head, Consumer, Retail, Healthcare & Financial Sponsors Investment Banking , Maybank
Saurabh holds a postgraduate degree in Management from IIM Ahmedabad, a bachelor's in technology from IIT Delhi and has also completed an executive programme in Investment Banking from the Wharton School, University of Pennsylvania. Saurabh has around two decades of extensive experience in investment banking and in addition to his role at Maybank, he is also a regular speaker at various industry conferences in the consumer & healthcare sectors. Outside of work, Saurabh is a recreational pilot and an amateur wildlife photographer.