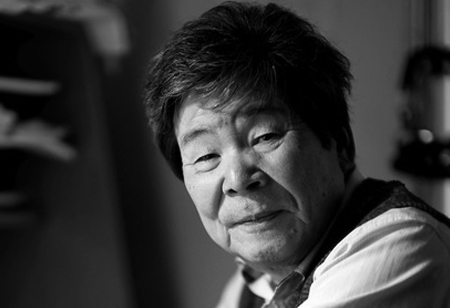 A pair of siblings take shelter in an abandoned bomb shelter. To save his famished kid sister, the elder brother slices a piece of watermelon and feeds it to her. But it's too late, and the teenager discovers her body the next day. It's a heart wrenching sequence from the animated war film, Grave of the Fireflies, that's bound to make most people bawl their eyes out.
But the film's late director, Isao Takahata, was dissatisfied with the scene, comparing the cutting style to that of dicing a tofu. Therefore, in his final film, The Tale of Princess Kaguya, he rectified that scene after constantly making his animators slice melons to learn every detail from how the knife enters the fruit and pierces through its flesh. The result (the completed scene) is patient and purposeful. This particular scene is only a few seconds, but the film took eight years to make and till this date, it is renowned as a masterpiece.
Takahata's films are equally well-known in Japan, despite Hayao Miyazaki, a pupil and longtime colleague, having much greater international recognition for his work. Regardless of what his own colleagues say, Takahata is considered a master even by those who are critical of Studio Ghibli and its management.
His terrifying Grave of the Fireflies and, more recently, the magnificent and astounding The Tale of the Princess Kaguya brought him international acclaim. His first and final movies with Studio Ghibli, the animation studio he co-founded with producer Toshio Suzuki and director Hayao Miyazaki. Miyazaki continues to remain synonymous with the studio for the majority of the general public. But without the artistic excellence of Takahata, none of this would have been conceivable.
In contrast to Miyazaki, Takahata was open to breaking boundaries: he was willing to go darker, experiment with form, adhere more closely to realism in both plot and graphics, and use abstraction to emphasize that realism.
Let's deep dive into the changes and developments brought into Japanese animation by Takahata.
Changing the Norm
Some of the characteristics that distinguish anime from its western counterpart—which is still mostly constrained and restricted to young audiences, morally ambiguous characters and mature storylines deviating from black-and-white themes. If a young, rebellious Takahata hadn't thrown off the norm in 1968 by making his directorial debut at Toei Animation with The Adventures of Horus, Prince of the Sun, the Japanese paradigm would have taken a similar route. A complex (anti)heroine, a powerful social message that was in line with the political unrest of the moment, as well as innovative cinematography in different action sequences, were hidden under this premise's outer simplicity. The following commercial loss was only made up for by the roaring critical acclaim and subsequent agreement on the fundamental influence this movie would have on subsequent generations of animators.
Influence of Italian Neorealism
It is impossible to ignore the distinctive characteristics of Italian Neorealism or the Nouvelle Vague in Takahata's inventive and iconoclastic inclinations due to their realistic topics with a strong social protest component. The intellectual tides that defined France and Europe at the time, as well as the artistic movements that influenced them, were exposed to him through his academic pursuits. These intellectual currents would later influence his ferocious creative drive and his political beliefs throughout his career. After all, the movie that set off the explosion chronicled a populist movement against a dictatorial and cross-eyed king's autocratic authority.
Experimentation with Expressive Limits of Animated Medium
Each of his creations represents a mini-revolution in and of itself. In addition to securing the viability of an adult tale, Grave of the Fireflies does so with previously unheard-of aesthetic finesse. With Just Yesterday, the ability to evoke feelings from the everyday simplicity is also demonstrated in the portrayal of reality as opposed to recollection. Pompoko, on the other hand, uses the fantastic and appears to be innocent to make a strident environmentalist argument. He once again broke the norm in his own studio for My Neighbors the Yamadas (1999). Till that time, hand-drawn animation had been the dominant paradigm, he created an entirely digital animated film. Strangely, it was the one movie that, to date, had the most hand-crafted aspect, with freestyle brushstrokes and a minimalist style more akin to a sketch.
Rough Start
At Toei, both Takahata and Miyazaki, who worked in the studio's animation division, advanced through the ranks. But, The Little Norse Prince, Takahata's 1968 solo effort, did not receive positive reviews, as Sharp notes. The pair's first feature-length film together, on which Miyazaki worked as the principal frame animator, featured many of the qualities that eventually made their works well-liked. Although it is today recognized as a masterpiece by academics, the studio did not share this opinion; as a result, it decided to eliminate a half-hour from the movie and refused to pay for the animation of two of its key action scenes. After 10 days, the movie was removed from theaters despite receiving favorable reviews.
Takahata was transferred to the television division. He and Miyazaki weren't convinced, though. They made the decision to quit Toei in 1971 as they grew confident in their ability to produce pictures of high quality. They worked together on a number of movies and television shows until launching their own company in 1985 with producer Toshio Suzuki.
Anti-War Activist
Several critics believe Grave of the Fireflies to be one of the best anti-war movies ever made. Takahata, however, insisted the movie wasn't made with that intent in mind, but rather as an anti war film. But, Takahata did adopt a vehemently anti-war stance in 2015 when the Japanese government started debating amendments to Article 9 of the nation's 1947 constitution, which forbids the use of force to settle disputes. To get around military limits, the government started to reinterpret the article of the constitution rather than going through the onerous process of altering it. As a result, according to The Japan Times, Takahata and other filmmakers founded the group Eigajin Kyujo no Kai (Cineasts for Article 9) to support maintaining the constitution as is. He believed that diplomacy was the only means of achieving peace.
Isao Takahata's filmography is a revolutionary experience taken as a whole. Hayao Miyazaki's peaceful and beautiful escapism is contrasted and complemented by a dark and agonizing reflection. This may help to partially explain why the latter's reputation still overshadows the former for the general public. Takahata relentlessly drives viewers through a roller coaster of emotions in each of his films, embodying Studio Ghibli's basic philosophy of putting art before money to the farthest extent of audacity and repercussions.