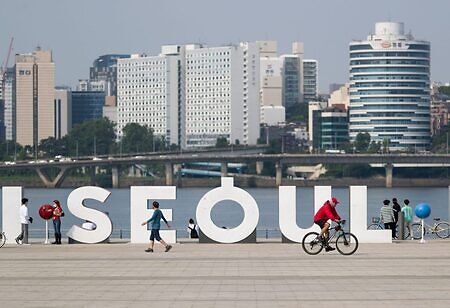 What does India and South Korea have in common apart from culture? It's education! Normally Asian countries share the importance of the value of education. The heightened frustrating phase students undergo during main term exams is nothing like the situation in India and South Korea. However, South Korea, in particular, has numerous spearheading education opportunities which makes it a top academic hub on an internal level. As the birth land of Hyundai, Samsung, KIA, the country is also known for having the most educated workforces in the world.
Academics in South Korea are fiercely competitive, since they place a high value on education, especially in higher education. Most of the notable education institutions are situated in Seoul and promise high quality education.
A fun fact is that, Squid Game actor who played Abdul Ali, Anupam Tripathi, studied at the Korea National University of Arts in Seoul on a scholarship.
What are the factors behind South Korea's rise to popularity in education for overseas students?
High Quality Education
Known as the epitome for uncompromising education standards, South Korea powers its economic progress by ensuring a skilled workforce to boost its growth momentum. It has won its place as one of the top OECD (Organization for Economic Cooperation and Development) countries, by merely having an average student score of 519, compared to the OECD average of 493.
With a wide range of courses from media and design, business and economics, to STEM and beyond, it's totally normal for students to get over excited and confused.
Here, national universities are built and administered under the central government, public institutions are run by local governments and private universities are founded by private non-profit educational institutions. The most popular university is the Seoul National University (SNU), standing in the 29th global position in QS Rankings. Other top universities are Korea Advanced Institute of Science and Technology, Yonsei University and Korea University and the list goes on.
The education ministry oversees every detail of requirement concerning faculty composition, curriculum, facilities and degree conferment to the universities' quality.
Many universities offer introductory Korean language courses for international students and even offer english-taught courses as well.
Scholarships
To encourage students worldwide into its education sector, as well as, to help the financially disadvantaged, South Korea is offering a number of scholarships for these students. There's the government sponsored scholarship and every college promises to provide financial aid to overseas students. Based on the applicant's GPA these scholarships are awarded. To facilitate migration for international students interested in entertainment- and culture-related courses, the government plans to develop the 'Hallyu visa', which will be comparable to the UK's HPI visa. The term 'Hallyu', which means 'Korean wave' in literal terms, is anticipated to pique the curiosity of more foreign performers.
Information and Communication Technology
Not just having some of the best technology in the world, but also being competent in the field is a trait of South Korea. The country specifically excels in robotics and information technology. There's a plethora of various technologies to innovate and it gives international students leverage to use their skills and knowledge of this kind at their work. It's a treasure trove for students with an interest in technology.
Vocational Opportunities
Simply studying in South Korea sets the stage for a wide range of employment opportunities. This is also the reason why international employers are aching to recruit graduates from South Korean colleges. The country's solid economy also ensures financial security after graduation as well. South Korean markets are fierce and provided the graduate is fluent in Korean, and then their degree and foreign exchange could provide a combined advantage that can help them stand out. Nonetheless, IT being the most age-old sought after option after schooling for Indian students; it naturally becomes the highly preferred sector. Additionally, the country's expanding political ties could enable a whole bunch of better vocational opportunities for Indian graduates.
Language
Today, South Korea is facilitating a lot of opportunities to provide a lot of English taught courses, which has emerged over years of receiving foreign students. It enables students to comfortably choose programs of their choice including global MBA, MBA, Clinical Psychology, Mechanical Engineering, Public Administration and others. However, for international students who choose to reside and study in South Korea, learning Korean is essential especially when their plan is to stay for the long-term. Rest-assured, every college in the country offers Korean language classes from beginner to advanced levels.
Safety
Safety is the utmost concern among students, including adults especially when they are planning to study or work overseas. However, individuals can be assured when it comes to South Korea for that matter. For a fact, Seoul ranks in one of the EIU's Safe Cities Index report.
Part-Time Jobs for Students
Regardless of being on a student visa, working part-time is above all thoughts among most international students. It is said that the country permits individuals with both D-2, for students and D-4, for language trainees, to work-part-time, provided the university they are admitted to allows it. Undergraduates have a time constraint of 20 hours a week and 30 hours for post graduates and weekends being an off for both parties.
Cost of Living
The tuition fees in South Korea vary from institutions and programs. The living cost is actually said to be high in the country. There are a variety of accommodation facilities at reasonable rent rates apart from apartments, and other facilities. Supermarkets or any grocery store or even vending machines have a number of food choices. There are also budget friendly restaurants and other outlets that serve delicious and comforting food. However, it is advisable for those looking to study in South Korea to first check out the review of fees, as well as other expenses.
Influence of Kpop and Kdrama
The Korean media and entertainment sector is extremely liked worldwide. South Korean culture has spread throughout the world, particularly in India mainly due to Kpop and Kdrama K-drama, K-pop, and Korean cuisine. Massive fan bases exist for bands like BTS, Twice, Stray Kids, Seventeen, Mamamoo and many other idol groups in India. The music and television shows showcase mostly likeable cultural aspects, livelihood and a few unimpressive aspects as well. They are highly influential among youngsters who begin to want to study, work or even live in South Korea.