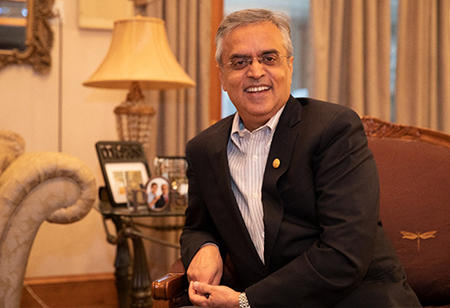 Sanjay Sehgal, Chairman & CEO, MSys Technologies, Venture & Angel Investor, Philanthropist , 0
Sanjay Sehgal has over 20 years of management and entrepreneurial expertise in the enterprise software, sales, marketing, and operations sectors. Sanjay holds BE degree in electronics from the University of Delhi.
AI has the citizens of the world divided into splits about
opportunities
and threats a future with the technology weighs. Closer to home, tech companies are gearing up to embrace the hottest productivity tool in the market,
Generative AI
. It is touted to open a door of possibilities that lead to an enterprise level adoption of AI where the number of AI led startups in India has doubled between 2021 and 2023 till date.
India has always charted a strong developmental course in the tech industry with robust manpower,
unmatched pricing and very dynamic workforce
that has placed our country sixth in AI investments between 2013-2022. However, one also has to understand that our journey as a country for any disruptive technology may look completely different than others. Take internet adoption for instance, when it arrived in India (early 1990s), it was primarily used by Government and educational institutions. The real transformation in internet adoption began with the
proliferation of affordable smartphones and the introduction of 3G and 4G mobile data services
. Similarly, AI companies have been around in our country for almost a decade now, but the true transformation journey begins as the end user realizes the potential of it and with exciting developments in Chat GPT, Dall-E, Bing Chat and many more.
A Turbulent Journey Ahead
The Indian technology sector is positively booming with palpable excitement over Generative AI, but to err on the side of caution, we should also look at the possible threats. Like any disruptive technology, this too, can be used to spread
misinformation
, run elaborate scams and overall wreak havoc on cybersecurity that affects millions. While it is not possible to slow down the growth momentum of a technology, we should also build legible structures that safeguard corporations and more
importantly the end user from this. We, at MSys Technologies have created PAN learn which provides a comprehensive cybersecurity training to employees and has worked with several leading companies globally. Such robust modules empower the user with the nuances of cybersecurity and help them protect themselves and their organizations. This rapid pace of development may also have its advantages against the perils it creates where the same technology can be used to detect frauds and strengthen processes for better optimization of an organization.
Disruptive Tech is Not a Magic Wand
While the use cases of Generative AI are many, it still remains to be a tool that can improve efficiency of a well-oiled machine and not fix a broken one. For instance, it can substantially
increase
labor productivity across the economy, but that will require investments to support workers as they shift work activities or change jobs. It is not likely to cause major job losses barring the ones that can be easily automated but it will change the focus within the jobs. A report by FICCI states that while only a small share (1percent) of the Indian workforce would see generative AI used in more than 20percent of their work, almost half (45percent) of workers in India will potentially use generative AI for between 5-20percent of their regular work activities. The challenge is to have adaptive organizational policies that can evolve to use the technology to upgrade their functions.
The real transformation in internet adoption began with the proliferation of affordable smartphones and the introduction of 3G and 4G mobile data services.
Industries that can Seize the Win
AI has a ubiquitous use case for enhancing efficiency, accelerating discovery and aiding creativity. Industries that to some extent already benefit from these technologies are the BFSI sector, customer servicing platforms, educational institutions and overall improving our existing IT services.
India's biggest strength that has kept us afloat even through some of the toughest times in the tech industry is our strength of IT services. We may not need to create a Chat GPT-level innovation but we sure can be the underdogs who create help other companies build a new league of sophisticated systems that create such disruptive technologies.