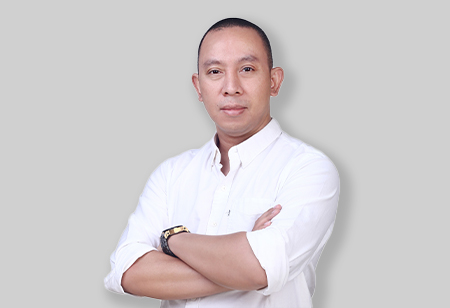 Stephanus Widi, Chief Commercial Officer, Charged Indonesia, 0
Stephanus is a seasoned business leader in the automotive and transportation management. He has a two decades long career in fleet management with strong milestones in handling multiple key roles across Astra International group companies, Puninar Logistics, Teknologi Pengangkutan Indonesia, and Grab, prior to joining Charged Indonesia in 2022. He also pioneered the electric mobility ecosystem for Grab Electric in Indonesia to support driver's better earnings and government's policy for transport electrification.

In a recent interaction with CEO Insights Asia, Stephanus shared his insights on various aspects pertaining to the current e-vehicles market in the South-East Asia region. Below are a few extracts from the exclusive interview –
Throw some light on the current e-vehicles market in South-East Asia region.
EV is a promising market to SEA countries, especially to Indonesia as the third largest 2W market worldwide. There are five to seven million new vehicles sold every year with a total population of more than 120 million in Indonesia alone. Though many motorcycle users are more familiar with combustion engines such products from Honda and Yamaha, and EV still have one percent market share penetration in Indonesia until mid of June 2023. Since 2019, the Indonesia government has been committed and focused to go for transport electrification and targeted to reach 13 million 2W EV in 2030. But just like the rest of the Southeast Asia market, there are currently few challenges facing the transition such as product technology and after sales reliability, economics affordability, and insufficient EV infrastructures.
Multiple initiatives and approaches have been initiated by multiple parties in the EV ecosystem, such as vehicle component localizations, green financing for EV, as in complementary to the released government EV subsidy policy. New investment in the EV ecosystem across the Indonesian market is arising, from EV manufacturing such as Charged Asia and Wuling, or CATL and Gosyen in battery manufacturing. With the total market exceeding $ 20 billion in the Indonesia market and the rising demand for sustainability, everyone is very much excited about EV and sets the stage for significant expansion as an ecosystem to push the speed of the electric transition.
Explain the importance of having a collaborative approach across the entire organization in today's dynamic business scenario.
Climate change demands a substantial solution from the adoption of EVs to reduce carbon emissions and contribute to global sustainability. As for Indonesia, the first step has been taken by the Indonesia President Jokowi with a decree for electrification in 2019, but still requires support from business, NGOs, and everyone related in the private or public sector as an ecosystem to ensure the proper development of the industry. It's a whole new industry circle that needs to move together with the same objective to create a zero-emission environment and better likelihood for us and future generations. And that includes us, Charged Indonesia with a vision to deliver 10 million EVs over the next 10 years, we are collaborating with everyone in the ecosystem to deliver sustainability electric mobility solutions for every combustion motorcycle user in Indonesia and Southeast Asia. We believe this is a mission for everyone in the industry, to continuously
educate the market and prove that electric mobility can be operated with reliability.
We also make sure that this vision is lived and clearly communicated to every employee in our company so that everyone works in close coordination with each other towards formulating real solutions to market lack of knowledge about electric mobility, affordability in EV ownership, and product reliability that impact user's mobility experiences.
We leverage our internal systems and digital technologies in the most optimal way in all our business functions, right from understanding the market trends and customer requirements to the final development & production that enable us to deliver bikes with quality, reliability, and style that are able to serve longer travel distances up to 200 km per usage.
It's a whole new industry circle that needs to move together with the same objective to create a zero-emission environment and better likelihood for us and future generations.
Tell us about the various opportunities that the EV segment has in the South-East Asia region.
The increasing sales of combustion motorcycles and the rising operating cost for petrol fuel, has definitely increased EV popularity in many Southeast Asia countries. Especially, the adoption of EVs is influenced by government programs to encourage electric mobility and growing environmental safety concerns. EVs with its lower operating costs, their large scale usage will no doubt have a significant impact on the country's economy. Due to such encouraging factors, there is no doubt that the EV segment currently has one of the largest number of opportunities in the South-East Asia region, especially countries like Indonesia and Vietnam with a large 2W population.
What are your strategies to ensure the success of your product in the market?
For us, understanding customer mobility needs is the key to deliver products and services that can successfully garner widespread customer acceptance in the market. Currently, there are a lot of tech advancements happening in the EV space in terms of batteries, charging infrastructure and many others. As a result, we are witnessing a lot of companies foraying in this space with the sole purpose of bringing high quality and efficient e-mobility solutions to the customers. We also put a lot of effort on R&D to understand our customers' experience while using our product and identify areas that might need more improvement for their comfort.
How do you expect the e-vehicles industry to evolve in the near future?
As everybody agrees that EV is the future of our transportation, I also believe the supporting ecosystem will grow and the technology evolves fast from time to time. EV Battery technologies will continue to evolve in terms of their ability to provide high energy density with longer life cycles, and the localization and distribution of battery production which will drastically reduce the costs even further for the users. This is the vision of the Indonesian government that is currently working with CATL and LG to create local battery production in Indonesia. Also, the combination of telematics and advanced connectivity technologies will also enable customers not only to have complete personalized control and access of their e-vehicles and supporting charging or battery swap network, but also ability to optimize their electric mobility. This enables users to commute from one point to another without facing any hassles and anxieties.