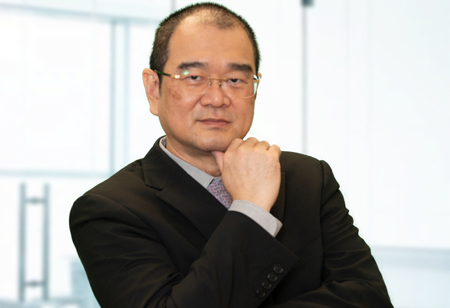 Djoni Herlambang, CTO, AEON CO. Malaysia BHD, 0
Djoni leads the organization's digital transformation efforts, aiming to adopt sustainable technology for future goals. He possesses extensive experience in the retail sector, having collaborated with retailers in Malaysia, Singapore and smaller Southeast Asian nations. His diverse background and expertise make him a valuable asset to AEON's digital transformation journey, as he deeply understands the retail technology landscape.

In an exclusive interview with CEO Insights Asia Magazine, Djoni Herlambang delves in the imperative need for a sustainable digital transformation in the retail domain:
What are the primary challenges faced by retailers in managing and optimizing their technology stack? How do these challenges impact business costs and hinder productivity?
Large retailers in Southeast Asia face challenges with legacy systems comprising outdated technology and hardware, demanding significant support and maintenance efforts. To address these issues, retailers seek sustainable, cost-effective technology solutions that align with their specific business needs. However, existing solutions often require extensive customizations, leading to increasing business costs. Despite these challenges, emerging technologies like contactless payment, personalization, and stock availability management offer promising impacts on customer shopping experiences. Back-end automation, supply chain optimization, and data analysis also enhance retail operations. Nevertheless, the scarcity of readily available and affordable smart retail platforms complicates matters for retailers. The main focus remains on resolving legacy system issues and adopting sustainable alternatives, while ensuring future technologies can revolutionize retail operations.
When selecting and implementing their technology infrastructure, what key considerations should retailers keep in mind?
Retailers should prioritize low-cost and sustainable technology infrastructure, with cloud hosting and services being preferred choices. Transitioning from legacy systems to modern Android-based devices can streamline operations and reduce maintenance efforts. Leveraging cloud capabilities eliminates the need for on-premises servers, simplifying processes.
Considering the younger workforce's skill set in Android development, adopting technologies aligned with available talent improves efficiency. This approach offers cost-effectiveness, ease of management, and customization capabilities. By using the latest technology and cloud-based solutions, retailers minimize the need for frequent upgrades, freeing up IT resources for customer satisfaction and automation, crucial aspects of the retail business.
How can technology optimize the supply chain?
Technology plays a crucial role in automating various aspects of the retail ecosystem, particularly in streamlining the order management process between retailers and suppliers. One example is the implementation of a supplier portal, which facilitates seamless order issuance and processing. Through the supplier portal, when the retailer's team issues an order, it is automatically sent to the supplier, who can then use the provided tools to generate a delivery order. This eliminates the need for manual data entry and simplifies the preparation process at the distribution center, including allocation and payment to the supplier. The same automation benefits extend to the customer side as well. Whether the end-user customer or a small retailer, the same solution can be provided to automate the entire supply chain, improving productivity and accelerating processes while embracing a paperless approach.
How can migrating to the cloud impact costs and foster growth in your company's technology infrastructure?
Many companies are often hesitant to transition to the cloud due to concerns about potential increased expenses compared to on-premises solutions. Additionally, they worry about losing control over their data and authority once it is in the cloud. However, from our perspective, we primarily see the advantages of adopting a cloud-based approach as it offers a more cost-effective total cost of ownership (TCO) in the long run. With on-premises solutions, companies have to manage resources and infrastructure within their data centers, incurring hidden costs over time. In contrast, cloud services operate on a pay-as-you-go model, where costs are based on monthly utilization. This results in a more transparent cost structure and eliminates the need for large upfront investments. By moving to the cloud, our focus is on achieving low-cost investments and leveraging sustainable technology. Furthermore, the cloud provider takes on much of the support responsibility, reducing our burden in terms of cybersecurity concerns and maintenance tasks.
Describe a few prospective technological decisions you've made that, in the next five years, will support broader organizational aims and ambitions related to digital transformation, and explain how other business executives should adjust to them.
Over the next five years, various industries will embrace digital transformation through prospective technological decisions. Key areas include migrating legacy systems to the cloud for cost reduction and flexibility. Adopting Android-based systems will improve efficiency and provide cost-effective solutions, such as self-checkout for better customer experiences and optimized workforce allocation.
Business executives should address change management challenges and promote the benefits of these technological decisions to ensure a successful transition into the digital era.
Ensuring network security will remain a priority, with the deployment of firewalls and network monitoring tools even in cloud environments. Smart retail platforms and integrated e-commerce solutions will streamline processes, enhancing customer experiences and overall efficiency.
However, these decisions come with challenges in change management. Business executives must gain support from stakeholders, communicate long-term benefits, and raise awareness about the value of innovative technologies. The pandemic accelerated digital transformation for many industries, emphasizing the importance of prioritizing cloud-based solutions, automation, and sustainable technology.
In summary, the next five years will see widespread adoption of cloud-based solutions, Android-based systems, cybersecurity measures, and smart retail platforms across industries. Business executives should address change management challenges and promote the benefits of these technological decisions to ensure a successful transition into the digital era.
Walk us through some of the future trends of sustainable technology within the retail industry.
One's focus should be on enhancing business intelligence, particularly in terms of personalization. Customer experience is vital, as many customers face difficulties finding items or deciding what to purchase. Personalization becomes crucial in guiding customers to the right products and locations, ensuring stock availability. Payment systems are also significant, with e-wallets and cashless options gaining popularity. Supporting multiple payment methods, including Alipay and WeChat Pay, is essential, especially for customers from China. This way, we can improve the overall shopping experience for all customers.