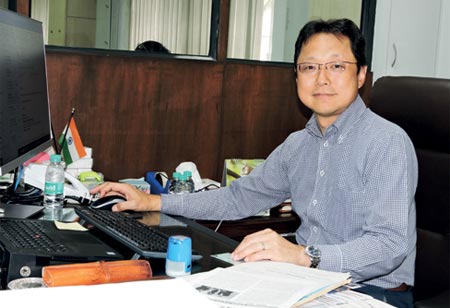 Automation is becoming an important part of all Indian industrial sectors, on account of the rising efforts to make manufacturing processes more efficient, achieve zero defects, and meet global quality standards. Factory Automation is becoming more and more digital with IIoT, and with India fast becoming preferred destination for manufacturing, it becomes imperative to increase competitiveness and build an efficient value chain with our Products and Solutions. Automation enables firms to produce goods for lower costs, leading to significant economies of scale that are important in industries that require high capital investment. It also enables a greater economy of scope, which means that one factory can produce a greater range of goods. This diversity and product differentiation are very important for today's firms. In the 1950s, the goal was to produce goods as cheaply as possible. Now, consumers are looking for greater customization of products. Automation can also lead to shorter lead times, quicker delivery, and more efficient use of stock and cash flow and improve safety records by implementing automatic fail-safe mechanisms and reduce the risk of errors.

The relevance of robotics and automation is quite high in industries such as Pharmaceutical, Food & Beverage, Automotive, and others. From primary packaging to end-of-line palletizing, robotic automation helps to maintain speed and flexibility in the work operations in Pharmaceutical and F&B. The Automotive industry has been using robots in their assembly lines for a variety of manufacturing processes.

• A step ahead with Smart Manufacturing
Over the past two decades, automation in manufacturing has been transforming factory floors, the nature of manufacturing employment, and the economics of many manufacturing sectors. Today, we are on the cusp of a new automation era: rapid advances in robotics, IIoT, Artificial intelligence, and machine learning are enabling machines to match or outperform basic activities in a range of work activities, including ones requiring cognitive capabilities.

Industrial automation has ushered new ways that machines and human effort can collaborate to increase efficiency and drive down complexity. For a smart factory to be achievable, the real-time utilization of production shop-floor data and efficient connectivity with IT systems are essential. With our IIoT solution called 'e-F@ctory', that offers seamless connectivity between shop-floor and IT systems and analyse on a real-time basis with optimal efficiency.

• Crafting Edge with Industrial & Collaborative robots.
Intelligent and flexible with multiple axes, industrial robots are evolving with time. Numerous sectors have benefitted from the implementation of these robots in their production lines and this trend is continuing. Robotics' capabilities have only increased with time, while costs have continued to fall. Major robot manufacturers are constantly upgrading their robots with increased payload capacity, greater accuracy, increased reach and range of motion, improved speed, and acceleration, faster communication with external equipment, better safety features, and lower operational costs. Many people believe the misconception that robots have taken away jobs from workers, but that is not necessarily true. Robots have created new jobs for those who were once on production lines with programming. They have pulled employees from repetitive, monotonous jobs and put them in better, more challenging ones. Today robots are user-friendly, intelligent, and affordable.

Numerous sectors have benefitted from the implementation of these robots in their production lines and this trend is continuing

Cobots or Collaborative Robots are the latest concept and can be seen live at new-age factories. Collaborative robots work seamlessly with humans on the same shop-floor to improve the production process and carry out monotonous and complex work on the shop floor. Cobots are becoming popular in the industry as they ensure greater precision, accuracy, and are also a cost-effective option. Mitsubishi Electric has recently launched its MELFA ASSISTA series of collaborative robots in India with an aim at bringing efficiency and increasing production with optimum financial and minimum physical input. We believe that collaborative robots are ready to serve the Indian market and take a lead in the Indian manufacturing industry. The MELFA ASSISTA is simple, easy to use and flexible. It is set to change one's perception of what a "robot"is.

Robotics & Automation is a major influence on the economy and will continue to be over the next decade. In theory, automation can lead to significant benefits for the whole economy. Automation will strengthen the connectivity and reliability in a high-competitive ecosystem. The future of automation looks promising where everything will be made easily accessible. Automation is key to delivering consistent customer experiences. It will lead to new opportunities, and with increased technology, we could see the potential for a revitalisation of small and medium scale industries - with self-employed workforce having the ability to use their creativity to join a fast-changing economy.