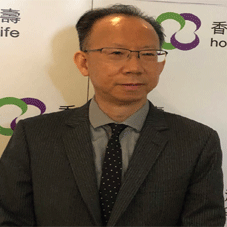 American journalist and essayist Henry Mencken once quoted, "It is mutual trust, even more than mutual interest that holds human association together." These words also sound most appropriate for the association between businesses and their human capital, especially the C-Suite officials. Today, in an age where there is a lot more effort being put into making the right decision, organizations need trustworthy and safe hands for their risk management/mitigation decisions. Especially, handling the risk of insurance key players such as Hong Kong Life Insurance is not a cakewalk; indeed, a brainstorming responsibility it is. With that said, the company has appointed Barkis Ip as the Chief Risk Officer for over five years, recognizing him as a perfect strategist to help them sustain both internal and external market atrocities.
Beyond operational risk management, Barkis has the responsibility of monitoring and evaluating various lines of business, cross-functional activities and identifying and supporting effective risk management processes across the organization. Recognizing him as one of the successful risk officers, CEO Insights Asia had an exclusive conversation with him. To know more about Barkis' unique strategies and responsibilities in the organization, kindly peruse the snippet of his inspirational journey.
Give a brief account of your professional journey.
I carry over two and a half decades of leadership experience in the insurance industry in various departments such as Finance, Sales, Merger & Acquisition, Risk and Compliance. Subsequent to starting my career as a Financial Controller of a life insurance company, I joined AIA Australia as an agency manager and was involved in sales management as well. My journey was with reputed names like AIG, HSBC Private Bank, SUNLIFE & METLIFE where I could support expansion plans through organic growth, business sales and acquisitions.
As the Vice President of Regional Compliance/Risk Management, I could lead compliance and risk teams in over 15 Asian countries. Further in my career, I was a part of a range of consulting projects, reviews & monitoring programs supporting financial institutions. Despite playing multifaceted roles, I enjoy advising on how companies can identify, control and sustain against existing and forthcoming risks in digital media.
As We Are Moving Into The Industry Uncertainty, Socio-Political Challenges, Inflation And Other Crisis, We Have To Be Proactive & Alert To Ensure Operational Resilience
What are some important features of your expertise as a business leader for having a successful career?
The primary driver for success is understanding the business, which is life insurance (in my case) and I have been specializing in it for over the last 20 years. I know the product, and distribution strategies, and how to attain sustained profitability. It is important to be fully involved in those areas to be a successful leader, irrespective of the department. Speaking of my career, I have had versatile experience in leading finance control and accounting; managing assets & liabilities and capital requirements. I have been fortunate to have built a sales team in AIA and also worked in compliance and governance covering more than 15 countries. All these experiences play important role, because now I know how to sell policy, cultivate a customer, build a portfolio, and contribute to the success of the business – be it sales growth, finances or compliance.
Another very important factor, specifically for a leader in risk management is to know regulatory, fraud investigation, and operational challenges by talking with the stakeholders of the organization, including customers, sales leaders, and then the managing directors. With all the exposure, I don't experience challenges while making decisions or offering suggestions to the stakeholders.
As the Chief Risk Officer, what are the areas you look into to identify and assess risks to the organization's assets, reputation and other interests?
With the flourishing digitization in policy distribution, the risk is more than ever and it is crucial to stay diligent in terms of procedures and standards. While taking care of this, we have introduced a stringent monitoring program to minimize and control those risks with regular tracking. We have formed a risk committee that comprises selected directors to develop the policies, strategy papers, and assess risk on a regular basis and reformulate the strategies as and when needed. Identifying and monitoring the risk is also important to understand the tolerance level of a company, the risk appetite, and report the details. Over the last few years, we have brought in BCP strategy and crisis management with a backup support system; all of which comes under the umbrella of risk management.
What are the traits that best describe your leadership style and what strategies do you use to keep your team motivated?
My management style is to provide support to the businesses through a dextrous and diligent team. Building a team that is on the same page with a common understanding is vital to develop solutions. We believe in an open mind policy and help them to identify the root cause of a problem, and find a solution so that the system, process, and approach will seamlessly go forward. We do not prey on stakeholders' mistakes, of course, risks cannot be avoided but the solution doesn't come from blaming for the error. Hence, it is important to work together as a team and resolve the problem for the stakeholder.
Barkis Ip Chief Risk Officer Hong Kong Life Insurance
Barkis Holds A Bachelor Of Commerce Degree From Canada And A Master Of Science Degree (With Distinction) In E-Commerce From Hong Kong. He Is An Australian CPA, Chartered Company Secretary, And A Certified Management Consultant, And A Fellow Of The Hong Kong Institute Of Certified Public Accountants.