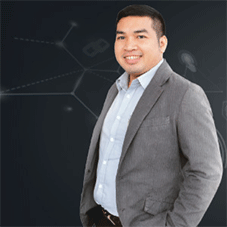 Modern-day organizations operate in a risky landscape. Especially, when it comes to the Fintech Industry, any number of risks might jeopardize operations and could threaten a company's business continuity, competitiveness, and even existence. Organizations require a stronger leader who identifies, monitors, mitigates, and controls risks long before they can damage the company. CEO Insights' exclusive team connects with one such stalwart, Jimmi Adhe Kharisma, Chief Risk Officer, Asetku, who has been proactively managing the risks and helping the organization adapt to the changes caused in its operating environment. Jimmi began his journey in the financial services industry as the Assistant Research Analyst at the Central Bank of Indonesia. Post that, he moved on to work with one of the pioneering companies in online mortgage loans in the Netherlands and expanded its operations in Indonesia. He was instrumental in building the business from scratch while monitoring every possible risk that might hamper its establishment. Such extraordinary opportunities have helped him to gain rich analytical skills and deliver at the highest levels thereafter.
Currently, as the CRO of one of the largest fintech peer-to-peer lending companies in Indonesia, Jimmi is strategically analyzing and mitigating risks while planning, and modifying the business policies and procedures to address vulnerabilities. Let's hear it from him.
Define Asetku as an organization.
Asetku is an innovative fintech company built on a vision to provide exclusive services in the peer-topeer lending business through technology. Funding involves two parties — lender and borrower. And Asetku enables borrowers to borrow money from lenders through online portals without having to go to any bank. Asetku as an organization is an initiative to make funding and transactions easy and comfortable for both lenders and borrowers.
As the CRO, what methods have you adopted for evaluating the risks and deciding on control measures?
Fintech peer-to-peer lending business involves a lot of risks, hence, as the CRO of the company, I direct my efforts to maintain a healthy financial relationship between lenders and borrowers. I make sure to connect our lenders with genuine borrowers who have the intention as well as the capacity to pay back the loan. We have trained people in our team who help the organization to do the collection from borrowers to be able to pay back lenders in case of any delay. In some situations, if a borrower cannot pay back the loan, we have collaborations with an insurance company, where we can claim and get the lender's money back. A peerto- peer lending business cannot stand alone; hence we have collaborated with many other companies in the ecosystem, like, a company that is connected with the Indonesian Central Bureau Citizen data that helps us to verify the identity and genuineness of both parties. Furthermore, we have another company on board that helps us to get digital signatures from both parties during the time of the loan agreement.
How do you keep your team motivated to ensure positive outcomes?
Successful teams are built on a foundation of empathy, trust, open communication, and care. That's why, my approach, as a leader, has always been to treat our employees as families, and listen to and respect their ideas while allowing them some freedom to improve upon their roles. Moreover, we also take care of the benefits that they deserve to receive from the organization, like pension benefits through the government program and several other social benefits.
Being the leader in the fintech industry, what are the toughest challenges you have encountered so far? How did you overcome them?
The Financial Services Authority in Indonesia issued several amended regulations in 2022 covering capital markets, banks, and non-bank financial institutions, which, when compared to the regulations issued in 2016, are quite complex & complicated. Though this was done to make sure customer protection and sustainability in this industry, we as fintech business owners found it quite challenging to cope with the restrictions as we were not prepared for the change. While every fintech company, including Asetku, is following the implemented regulations ardently, we have learned that we need to be more flexible and adaptive to the new regulation, and always be prepared for changes in order to lead the fintech industry. However, we are training our teams to make sure that we can comply with the regulations in order to maintain the ethos of the industry.
We need to be more flexible & adaptive to the new regulation, & always be prepared for changes in order to lead the fintech industry
What are the opportunities that you foresee in Indonesia in terms of the fintech market? What are your personal aspirations as a leader in the fintech industry?
Indonesia has the fourth largest population in the world but not all of it has been served by conventional banking to get financial services therefore fintech peerto- peer lending has a very big potential to grow in this country. The Indonesian government is also taking initiatives to make sure people throughout Indonesia have internet facilities and other infrastructural facilities so that we can provide services to unbanked people.
I aspire to grow and expand the virtual peer-topeer lending business in other verticals in the fintech industry, like e-commerce or blockchain in the coming years.
Jimmi is a Strong finance professional with a Master of Science in Economics focused on Monetary Policy and Banking from the University of Amsterdam. Currently, in the role of CRO, he is mitigating risks to help Asetku deliver success stories in terms of the peer-topeer lending business in Indonesia.