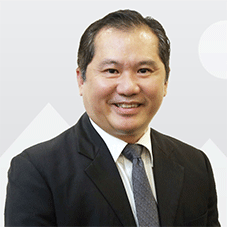 Kay Leong Poh, Group Deputy CEO & CIO, Poh Tiong Choon Logistics is a distinguished leader in the logistics and supply chain industry of Singapore. Before joining the family business of logistics, Kay Leong had served as a National Service Probationary Inspector under Singapore Police Force. Being a conscientious man, he took his duties very seriously and after serving for 20 years as a National Service Reservist, he was promoted to the prestigious rank of Deputy Superintendent (DSP)(NS). It was in the year 1992 that he joined Poh Tiong Choon Logistics as a Systems Analyst. Ever since then, he has been leveraging IT & automation in the services of the company.
His extraordinary skills in analyzing and implementing application systems, documenting the standard operating procedures, and training the teams have taken PTC ahead of its time. Today he is the Group Deputy CEO & CIO of the company and aspires to take it into the next stage of development with the use of drones, automation, robotics, AI, and autonomous electric vehicles. Apart from being a competent business leader, Kay Leong actively engages in community work in Chua Chu Kang Constituency and is also a member of its Citizens Consultative Committee. Let's hear it from him.
How would you define Poh Tiong Choon Logistics as an organization?
PTC was founded in 1950 and specializes in handling DG cargo including highly hazardous chemicals. We focus on offering one-stop supply chain management services to our clients. We take care of not just the physical flow of cargo but also the information flow in the back end. Besides serving as a third-party logistics provider for the chemical industry, PTC also offers total integrated logistics services to other industries. Our unique position lies in marrying operations and information technology so that our customers and staff have full visibility and transparency of our operations with access to many real-time reports.
What are the major challenges you have experienced in your journey so far?
How did you overcome them and what did you learn from them?One of the major challenges that I have faced was convincing our staff of the benefits of computerization which include access to real-time reports, efficiency in managing operations, self-access by customers, and the ability to work remotely. PTC managed to overcome this major challenge by conducting training, highlighting the benefits, and employing temporary staff to engage and hand-hold those who needed more assistance. In the process of implementation, I have learned to be more patient and creative in coming up with solutions to address staff's concerns.
What are the changes in market behavior that you anticipate and what are the opportunities that you foresee?
I see increased use of automation and robotics to facilitate round-the-clock operations using minimum manpower. I also see opportunities in deploying drones for inventory management in our warehouses and last-mile delivery. With a good EV charging infrastructure, building up a strong fleet of A-EVs can help solve the driver shortage problem. Extensive use of AI to analyze big data will cut wastage and improve efficiency.
As a leader, my goal is to marry technologies with the business. A seamless marriage will provide more value to the Group as well as our customers and help achieve a win-win partnership
What is the future roadmap planned for Poh Tiong Choon Logistics?
What role do you intend to play in it?One key focus in our roadmap is to expand overseas. We will use what we have learned and developed in Singapore to bring a one-stop SCM service to our new overseas customers. We also want to help them enjoy the full benefits of supply chain visibility and transparency. As a leader, my goal is to marry technologies with the business. A seamless marriage will provide more value to the Group as well as our customers and help achieve a win-win partnership.
What advice would you give to aspiring leaders in the marketing domain?
My suggestion to aspiring leaders is to keep learning and innovating. Technology is a strategic driver for any business to gain a competitive advantage. It is moving so fast; we just cannot afford to rest on our laurels. Don't worry about failing because you will learn and gain the most from failure. Keep your planning up to date and discuss them with all stakeholders in advance so that failure, if it happens, will be less impactful and easier to fix.