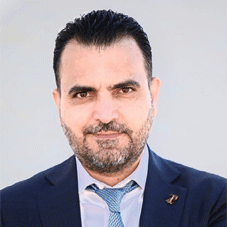 Skilled in Negotiation, Operations Management, Project Estimation, and Construction, Younis Salhi is an accomplished business leader with 17+ years of leading and strategizing the entire spectrum of business development of Shandz Company as its CEO. He is a third-generation leader who is operating with the highest dedication, integrity, and passion to fulfill the company's mission and deliver the best to the community. Since 1976, Shandz Company is driving Iraq forward by tackling its biggest challenge, i.e., electricity by combining world-class engineering with the latest software and analytics. Over the past decade, under the leadership of Younis, the company has been helping the country work more efficiently, reliably, and safely and inventing the future of Iraq by leading new paradigms in its energy sector. Younis' turnkey approach to project development helps bring best-in-class technology and expertise across every touch-point of their project. As a partner in the country's progress, he with his team envisions delivering on their promise to the Iraqi people of supporting the government to build a stable network that meets their needs. Let's hear it from Younis as he talks about his journey as the CEO of Shandz Company.
Tell us about your flagship offerings and what value additions customers can expect from your products and services.
Shandz is a quality-oriented organization; by ensuring product quality we earn customer loyalty and establish brand recognition across the country. We understand that there are numerous suppliers of the manufacturers within the market and there is a big range of differences in the level of quality between those suppliers, hence we work with only reliable suppliers who concentrate on the quality of products. Moreover, we have an excellent procedure to control the quality; during the purchase of annual material, we crosscheck every datasheet and references of suppliers, and during the manufacturing, we send our expert team to the manufacturing units to ensure safe & quality production. This quality assurance continues in the shipment of our products as well as in the stages of implementation.
As an organization, what has been your primary focus areas? What is the future destination you are heading towards?
As an organization, we focus on collaborating and working very closely with the Ministry of Electricity to recommend the government new ways & ideas and direct them toward the latest technologies that will help to eradicate the issues created by the shortage of electricity in Iraq. We recently brought a new conductor into the market, ACCC (Aluminium Conductor Composite Core) is a registered trademark for a type of 'high-temperature low-sag' (HTLS); we are the first company to launch this technology in Iraq and successfully energized it in projects. This is just an instance of how Shandz is constantly committed to bringing new technologies to Iraq and making lives easier for its people. Moreover, we also have a goal to expand our services and enlist ourselves under the best companies in the country. Also, we as SHANDZ are one of the effective companies which participated in the SMART GRID Project in KRG, this project considers one of the most successful projects in Iraq and has a role in controlling Technical and non-technical losses in Power.
We Always Deliver The Best To Our Clients, And This Is Why Even During Tough Times They Choose To Do Business With Us And Consider Us To Be A Reliable Option
Could you reflect on some of the toughest challenges you have encountered in your journey so far? How did you overcome them?
Every business in Iraq goes through similar challenging situations as most of the events in this country are out of its people's control, events like war or ISIS attacks or even economical crises. Such situations take down with them most companies or businesses affecting their profitability and growth. But we at Shandz have always been able to rise above these difficulties with our exceptional business planning & strategy which is developed by our team, and which has always helped us to survive and continue growing in the market. Similarly, during the pandemic, we were able to equip and retain our staff and continue our business. We always deliver the best to our clients, and this is why even during tough times they choose to do business with us and consider us to be a reliable option.
What are the changes in market behaviour that you anticipate and what are the opportunities that you foresee?
Previous years have brought multiple opportunities for us to grow our business in Iraq and we did cater to almost every city in the country. Also, with the establishment of a new government in the country, come several challenges. Hence, we are working on newer plans & strategies to meet the right opportunities in the growing market. We believe, with our hard work and efforts, we will be able to get a hold of the big market share that is coming our way.
In light of your strong experience, what advice would you give to budding industry leaders?
To be a leader in the industry, one must care about the quality that he/she is willing to offer to the market, and be reliable & maintain transparency while communicating with the clients. A business leader must have the capability to understand the new trends in the market and accordingly develop strategies and implement technologies to serve the customers.
Younis Salhi, CEO, Shandz Company
Younis is a proficient business development professional with a B.Sc. in Electrical Engineering from the University of Salahaddin, Erbil, Iraq, and a Master of Business Administration from Université de Picardie Jules Verne (Amiens).
Favorite Cuisine: Seafood delicacies
Favorite Travel Destination: Greece
Awards & Recognition: Recognized by the Ministry of Electricity in Iraq and the United Nation for contributing exceptionally to the energy sector.