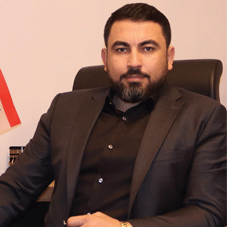 Over the years, the previous regime displaced more than five million people in Iraq. Only half have returned to their hometowns. Among them was a bunch of passionate entrepreneurs like Yadegar Haji Wahran, CEO of Zarawa Company, who loved his country and wanted to contribute to nation re-building genuinely. Despite building a successful career in the UK, Yadegar returned to Kurdistan in 2012 and ventured into the logistics industry. Little did the industry know that he would host a paradigm shift in the country's logistics realm.
Yadegar amalgamated the high-level quality approach he acquired from his professional journey in the UK and his international experience to lead a local company, Zarawa, which employed the young generation in the region. Under his aegis and within only two years, the company has broadened vastly in logistics sector in Kurdistan and has taken a big market in Oil & Gas businesses. Today, Zarawa works with leading multinational corporations, including oil and gas companies operated/ operating in the Kurdistan region. On the flip side, the company has also made commendable partnerships with globally leading (Oil & Gas) services companies in the area. In an exclusive interview with CEO Insights Asia, Yadegar takes us back to his professional journey, his exciting endeavours with Zarawa, and much more.
In conversations with Yadegar Haji Wahran, CEO, Zarawa Company.
You have nearly two decades of International experience in the logistics industry across continents. How has the journey been so far?
One of the first milestones in my life came when I moved to the UK in 2000 alone. I was only 14 years old. I continued my education in the UK and eventually kick-started my professional journey by joining a company called Woolworths in 2004. I was doing multiple tasks in the company till 2009.
By then, the business opportunities in my motherland, Iraq, had started blooming, and my family soon started their own business. In 2012, I came back to Kurdistan, Iraq, to join my family business. We built automobile spare parts for leading car manufacturers, including Mercedes, Toyota, and Nissan. It didn't take much time for me to notice much larger opportunities brewing up in the country and I envisioned aligning my career plans with such substantial market opportunities. Hence, in 2013, I joined CEVA Logistics, one of the leading international logistics companies in the region. The civil logistics during that time was mostly working with large oil and gas companies in Kurdistan, wherein I could sense a huge market potential, which eventually led me to become a Co-Founder of Zarawa Company—a logistics & supply chain solutions provider. I became the CEO of Zarawa in 2018. To great effect, I could club the high-level quality benchmarks that I acquired from my professional journey in the UK with my international experience through CEVA. I infused both these aspects into my local company, employing the young generation in the region. It worked really well.
Within two years, we could take a large number of businesses in logistics of Oil & Gas markets in Kurdistan. Today, we work with leading multinational oil and gas companies in Kurdistan. On the flip side, we also made commendable partnerships with globally leading Oil & Gas services companies, where we could be an agent of the world's leading international freight forwarders, which significantly could be an effective step for us to approach global opportunities and improve ourselves in this journey.
How would you define Zarawa Company as an organization and its current positioning in the market? What are the other factors that contributed to this success?
We are today a well-established brand in the market with a significant percentage of the market share. Beyond that, we have built a reputation as the one who revamped the industry. Before we entered the market, the old-generation companies hardly focused on customer needs and expectations, even with their extremely costly services and huge market demand during that period. When we took on this mission, we changed this approach completely, focusing on a customer-centric strategy and competitive pricing. It, in fact, shook the industry and market alike by providing the same services with higher quality and almost a quarter of previous prices.
Making a significant investment in my team has been one of the predominant aspects. I hired a highly educated local team who knew the nooks and corners of the city and trained them. It helped us maintain a customer-centric approach and world-class quality standards. Moreover, they understood the specific sophisticated requirements of our clients to every last detail and assigned dedicated people for that client to ensure seamless real-time communication.
You have also built a strong warehousing infrastructure. What has been the influence of your supply chain prowess in your operations?
When I started to control the lion's share of the logistics market in Kurdistan, something that immediately came to my attention was that our clients always needed the stocks yesterday. Their haste and suffering to get their goods fast dire. The cause for this was not hard to understand. My country lacked one of the most important parts of the logistics infrastructure: warehousing. Hence, I decided to build a robust infrastructure to store the goods and started our dedicated supply chain department. I purchased land and built warehouses with international standards across 140,000 square meters, which today not only accommodate our stocks but stores for our clients as well.
We purchased stocks worth $60 million directly from manufacturers abroad and stored them in my warehouses for our clients so that they could get the items sooner than ever before. To put this in context, we have more than 5000 tons of OCTG, including more than 34,000 items in fitting valves, flanges, elbows, and more. Our clients were thrilled and surprised at the same time when we told them about our robust backup because it is something they have never experienced before in Iraq. The new culture brought us more attention from the market, especially since our clients could come to our warehouse, visibly see the items, order them, and we would deliver it to them when needed. This led to another demand, as our clients started to ask us if we could fetch them the goods they wanted from other international countries. We embraced this challenge and started offering them the complete package—buying, importing, storing, selling, and providing end-to-end logistics services. This robust infrastructure owned by us enables us to offer extremely competitive prices.
Tell us about your technology adoption approach toward ensuring overwhelming client experiences.
Technology adoption is all about the environment prevailing in your market and communities around it and the requirements of the clients. Let's say whatever is suitable for UK or UAE probably won't work for Iraq. Hence, we always endeavour to bring the best possible environment for our community and clients. That is through using ERP system and customized softwares to ease visuality and traceability for our customers.
Could you tell us about your leadership approach and the dynamics with your team?
I like to lead by example. I always explain to them how we have to do it. Indeed, I have built an excellent team, combining knowledge, experience, and exceptional skills. They also undergo frequent training sessions. Moreover, we have built a strong mutual trust; hence, when I hand them over the business, I know that they will handle it the best way possible.
My country lacked one of the most important parts of the logistics infrastructure: warehousing. Hence, I decided to build a robust infrastructure to store the goods and started our dedicated supply chain department
Going forward, what are your plans for the company?
We are looking forward to considerable opportunities in the market. We started as a logistics company, went on to adjoin a dedicated supply chains business, and now my target is to branch into a comprehensive Oil & Gas services business. Also, we have started in Erbil, Kurdistan, and now we have branches in the UAE, UK, Turkey, and Baghdad, Iraq.
What advice would you like to give to budding industry leaders?
Money is not always everything. The reputation of your brand and the quality of your services matter the most. The rest will follow. You also need to conceive that everything boils down to the fact that what your clients need matters the most, not what you have.
Yadegar Haji Wahran, CEO, Zarawa Company
Yadegar possesses more than two decades of professional experience across the UK and Iraq. He is a passionate entrepreneur who hosted a paradigm shift in Kurdistan's Logistics industry, and within two years of joining Zarawa, he promoted the company to have a big share in the market of Oil & Gas logistics in Kurdistan.
Hobbies: Collecting Cars & Watches
Favorite Cuisine: Iraqi cuisine
Favorite Book: 'Rich Dad Poor Dad' by Robert Kiyosaki and Sharon Lechter, 'The 5 AM Club' by Robin Sharma
Favorite Travel Destination: London