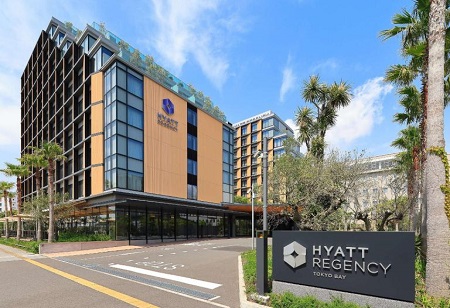 The Hyatt Regency Tokyo (also known as "the Hotel"), a renowned luxury hotel located in the centre of Tokyo, will be purchased from Odakyu Electric Railway Company under the terms of definitive agreements signed by KKR, a top global investment firm, and Gaw Capital Partners ("Gaw Capital," a top real estate private equity firm).
The Hyatt Regency Tokyo, a 746-room luxury hotel with a prime location in Shinjuku, one of Tokyo's busiest commercial and retail areas, is close to the seat of the Tokyo Metropolitan Government. The hotel is situated in a prominent area near massive Class A office buildings and is convenient to Tochmae and Shinjuku Stations as well as other public transit hubs.
Kensuke Kudo, Director, Real Estate, at KKR, said, "This investment is a rare opportunity to acquire an iconic hotel in one of the most energetic districts in the world. As Japan emerges strongly from the pandemic as a leading travel destination, and domestic and international business travel bounce back, we see great potential to refurbish and to enhance the Hotel's offerings to both corporate and leisure guests while retaining its unique heritage. We are pleased to welcome Gaw Capital, with their hospitality expertise, as strategic partners here, which will enable us to tap into our collective strengths for the Hotel's transformation."
Isabella Lo, Managing Director, Principal – Investments and Head of Japan at Gaw Capital Partners, added, "We are delighted to collaborate with KKR in a rare opportunity to acquire the iconic full-service Hyatt Regency Tokyo in prime Shinjuku. With a full renovation of the hotel rooms and the public areas, the Hotel will enjoy the upside from the jump in the number of inbound travelers from overseas and its advantageous location in a global commercial hub."
With the help of Asia Real Estate Partners, KKR is investing. This deal represents KKR's most recent investment in Japan and the Asia Pacific real estate market. This continues KKR's momentum and ongoing activity in the Japanese real estate market across a variety of real estate investment strategies, including KJR Management (formerly Mitsubishi Corp.-UBS Realty Inc.), a renowned Japanese real estate manager who is in charge of two Japanese REITS, a portfolio of multifamily properties in Tokyo, and office assets throughout the country. As of December 31, 2022, the real estate division of KKR is responsible for managing assets worth about US$65 billion globally.
By making its initial investment in the Hyatt Regency Osaka in 2014, Gaw Capital Partners joined the Japanese market. In 2016, it successfully exited the country as the second-largest hotel deal in Osaka. Gaw Capital is currently in charge of managing a variety of properties in Japan, including a logistics portfolio with seven fully leased properties spread throughout Greater Tokyo, a portfolio of multi-family residential properties primarily in Tokyo and other major cities in Japan, and a property in Fuchu Intelligent Park slated for conversion into a Tier III Data Center. Gaw Capital also completed the $3 billion privatisation of Office J-REIT in the first quarter of 2022. Gaw Capital had US$33.6 billion in assets under management as of Q3 2022.
In Q2 2023, the acquisition is anticipated to close, pending regulatory clearances and closing requirements. No other information about the investment has been made public.