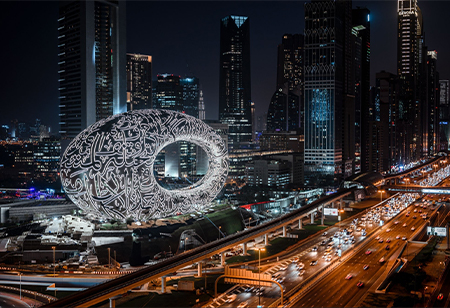 Dubai's objectives have propelled the emirate to the forefront of digital growth worldwide. Dubai is at the forefront of digital technology adoption and usage, from simplified government services to the proliferation of free Wi-Fi hotspots. The city has jumped development stages to not only keep up with worldwide improvements but also to become a trailblazer, setting new benchmarks in commerce, investment, entrepreneurship, and innovation.
Dubai Digital Strategy
The city now has an ambitious plan for adopting modern technologies. At the heart of these ambitions lies a comprehensive plan for the development and implementation of digital technologies. Dubai's digital odyssey began more than two decades ago, with the introduction of its pioneering e-government effort in 2000.
This was followed in 2013 by the Smart Government initiative and a comprehensive digital strategy that aimed to eradicate paper transactions by the end of 2021. Dubai is now entering its next phase, with the goal of solidifying its position as the worldwide capital of the digital world. Today, the emirate's government services are 99.5 percent digital, and the emirate's paperless government goal has been met 100 percent.
Digital transactions now account for 87 percent of all government service transactions. More than 120 government smartphone apps have been developed, and government agencies have achieved over 80 percent compliance with cybersecurity indicators and 100 percent compliance with the Dubai Data Law.
Digital Transformation
A comprehensive strategy established by the Dubai Digital Authority, the agency in charge of the emirate's digital agenda, is driving the new chapter of Dubai's digital goals. The Dubai Digital Authority, which will be established in June 2021, will be responsible for developing, implementing, and supervising plans to improve Dubai's IT infrastructure, data management, digital transformation, and cybersecurity. The Authority, which operates as an integrated body, combines the expertise of the Dubai Electronic Security Centre, the Dubai Data and Statistics Establishment, and the Digital Dubai Government Establishment.
The Authority's new strategy aims to harness the power of data, innovation, and smart solutions to improve the quality of life for its citizens and residents while also building an advanced digitally empowered economy and society.
The roadmap focuses on seven critical pillars:
The Digital City
Data and Statistics
Cybersecurity
Digital Competitiveness
Digital Economy
Digital Talent
Digital Infrastructure
Each pillar was meticulously designed to produce meaningful economic, social, and environmental outcomes. Dubai has made free Wi-Fi available throughout the city as part of its efforts to improve the digital experience. Dubai has a large network of approximately 23,600 free Wi-Fi hotspots spread throughout a wide range of public areas and amenities.
These hotspots provide practically ubiquitous coverage, covering the vast majority of the city's metropolitan area. The digital approach has provided citizens and residents with numerous tools to help them in their daily lives. The increasing use of digital apps such as Dubai Now demonstrates the city's rapid progress in creating a digitally-enabled lifestyle. Citizens and residents can use this application to receive access to over 170 public and commercial sector services from over 35 organizations, all at their fingertips, saving them significant time and hassle.
The app provides services such as paying for parking, applying for a visa, making a police complaint, recycling rubbish, and reporting a traffic accident. With over 23 million transactions totaling more than AED12 billion ($3.3 billion) since its launch, Dubai Now has set new standards for flawless single-window digital services.
The app processed about 2.6 million transactions in the first half of 2023 alone, compared to 2.1 million transactions in the same period in 2022, representing a 24 percent year-on-year increase. To improve customer satisfaction even further, the Dubai Digital Authority has deployed biometric happiness detection systems and environmental wellness sensors to collect real-time data on public attitudes and environmental conditions, respectively.
"Dubai is on track to usher in an advanced digital future and raise its status as a global exemplar for digital governance, in line with the ambitious objectives of the Dubai Economic Agenda D33 and the aims of the We The UAE 2031' vision," says Hamad Obaid Al Mansoori, Director General of Digital Dubai.
The country is creating a dynamic digital economy based on agility, innovation, and the innovative use of digital technology, thanks to our leadership's far-reaching vision. Dubai's new digital strategy serves as a model for digital government in future cities, laying the groundwork for a comprehensive digital life.
The implementation of these aims is being monitored using a robust framework of strategic indicators and performance metrics, guaranteeing alignment with the city's major objectives. The 'Dubai Transaction Index' is a real-time indicator of government efficiency. The Index not only provides leadership with a comprehensive picture of service performance across government institutions, but it also allows customers to track the services provided to them.
According to Al Mansoori, "By using such metrics, we aim to expand the digital economy by an exponential 200 percent, improve the quality of the digital experience by a minimum of 90 percent, raise Dubai's ranking in the United Nations' Local Online Service Index (LOSI), and proactively create 50 integrated digital city experiences that are seamless, interconnected, and high-impact."
Emirati talent upskilling is critical for advancing digital transformation. Collaboration and interaction with a varied spectrum of government entities help this aim.
Dubai Dashboard
The Dubai Dashboard from the Dubai Data and Statistics Establishment gives decision-makers fast access to a variety of trustworthy, up-to-date municipal indicators.
This includes key metrics such as:
Population trends
Platform 04 index
Happiness levels
Business license data
Tourism statistics
Foreign trade volume
Real estate transactions
Dubai Cybersecurity Index
The Authority's Digital City Experiences program, developed in collaboration with the city's Government Human Resources Department, the Supreme Legislation Committee, and the Department of Finance, aims to create a unified digital ecosystem that provides consistent digital experiences to citizens, residents, visitors, and entrepreneurs.
The program aims to unite fragmented digital services and combine them into an integrated system that preserves privacy, is user-centric, and provides options. As the emirate forges ahead in constructing a new digital future, it has not only established its position as a global digital leader but has also provided a model for the cities of tomorrow.