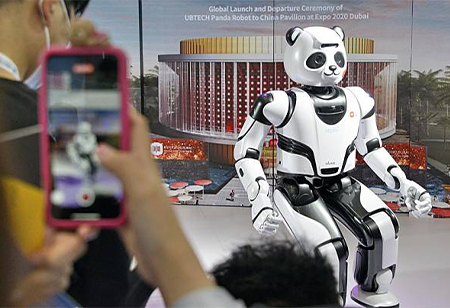 After a full week of humanoid, dog, butterfly, and industrial presentations, the yearly World Robot Conference concluded in Beijing.The conference this year features over 30 topical forums in addition to six main forums. The World Robot Expo will debut 10 key application scenarios, displaying the most recent robotics technologies, goods, services, and applications.Eight of the 13 robotics companies situated in Yizhuang that participated in WRC 2023 are specialized, high-tech SMEs that create brand-new, one-of-a-kind goods. Additionally, five of these companies have been given the moniker 'little giants' – a term for exceptional SMEs that engage in manufacturing, serve niche markets, and use cutting-edge technology.
Commenced in 2015, the WRC is a platform for designers, investors, scholars, researchers, and other interested parties to view the most recent developments in AI-powered machinery. The annual conference is a premier venue for fostering interactions and teamwork in the robotics industry, supporting the growth of creative companies and strengthening the value chain of the sector. Here are some eye-catchy robots that stole the show.
Humanoid and Dog Robot by Dreame
The first humanoid robot in the world to successfully create latte art was Dreame's Universal Humanoid Robot, which stunned several conference attendees. Dreame's Universal Humanoid Robot is now showing off its skills outside of the lab, strolling about both indoors and out and waving at people. Dreame's Universal Humanoid Robot, which is 178 cm tall, weighs 56 kg, and has a total of 44 degrees of motion, is regarded as being very bionic. It can stand on one leg thanks to the six degrees of mobility in each leg.
Dreame also introduced a four-legged bionic robot designed for consumer use, posing for pictures. The Dreame Dog is a quadruped bionic robot with head-body synchronization and the most degrees of freedom. It's said to express emotions through its head to provide consumers emotional feedback in addition to its strength and agility. Dreame Dog features support both open-source and open SDK, allowing for secondary development and use in scientific research, teaching, and other fields.
Touch-Responsive Robot Cats by Elephant Robotics
Elephant Robotics displayed a collection of touch-responsive robot cats that mimic real-life gestures using AI and deep learning. They are said to play with toys, meow, purr, and bake bread by mixing flour. They occasionally defy orders and walk to their own charging stations, much like a real cat would. Both the smooth, hard-plastic MarsCat and the fuzzy, ragdoll-like MetaCat variants are completely programmable; the latter includes a quad-core Raspberry PI and communicates through animated eyes. Cyborg cats may be the best option for people with allergies, who don't want to feed or clean up after cats, or who live in a place that doesn't allow pets.
Bipedal Humanoid by CyberOne
Since its debut around a year ago, CyberOne has been under development. The most astonishing characteristic of the approximately six-foot tall bipedal humanoid is its ability to walk on two legs. Its 13 joints each have 21 degrees of freedom, allowing the machine to move about while maintaining its balance and posture. CyberOne uses an AI interaction algorithm to recognize 85 distinct types of background noises and 45 different human emotions from its organic, light-emitting diode (OLED) display panel.
Blue-Winged Butterflies by Festo
Festo, a German automation company, has created a line of blue-winged butterflies that weigh 42 grams, have a 68-centimeter wingspan, can fly in groups, and are equipped with infrared cameras, GPS, and intelligent networking systems. According to the company's website, these synthetic insects, known as eMotionButterflies, have separate wing controls and might be used to transfer materials inside facilities.
Da Vinci's Intuitive Surgical System
Shortly after its introduction, the da Vinci surgical system received FDA certification in 2000. In their fourth generation now, these technologies allow surgeons to work side by side while carrying out a variety of treatments through a single port. Robot-assisted surgery is now frequently chosen over other techniques. In fact, the University of Colorado Health estimates that three out of every four prostate cancer procedures in the United States are carried out using a da Vinci system. Metal probes on the robo-surgeon's four arachnid-like arms that hang over the patient are equipped with the essential instruments and are controlled by a surgeon operating from a remote panel. An endoscopic camera offers visualization.
Its unique technology enables moving with seven degrees of freedom, which is not conceivable with a human wrist. The device improves vision, precision, dexterity, and control in contemporary operating rooms with just a few tiny incisions.
Precision Agricultural Robots y K2 Tech
The precision agricultural robots from K2 Tech harvested a cherry tomato every three to six seconds for presentation. The AI-enhanced robotic arm uses a vision system that can "see" each piece of fruit in real time to assess its ripeness for harvesting based on its size, color, and form. Additionally, this approach eliminates pests and diseased product from the supply. The China-based startup is developing a fleet of intelligent farming equipment that can seed, weed, harvest, gather crop data, and sample soil in an effort to automate the agricultural industry.
Unitree's Go2
The newest member of Unitree's robo-dog lineup, Go2, a mechanical quadruped weighing 30 pounds and capable of running 18 kph, made its premiere. This dog-droid, which has a 28.8 voltage capacity and an ultra-long battery life, employs ChatGPT's automatic code generation to reply intelligently to orders like shake, dance, do a handstand, and take a picture. The 4D LiDAR sensor, which sits where a puppy's snout would be, is the device's most noticeable feature. This 360-degree camera uses pulsating light to bounce off nearby objects and surfaces, determining their distance in the time it takes for the light beams to reflect back, and building a real-time map of its immediate environs. The bionic good boys are able to dodge obstacles in this fashion.