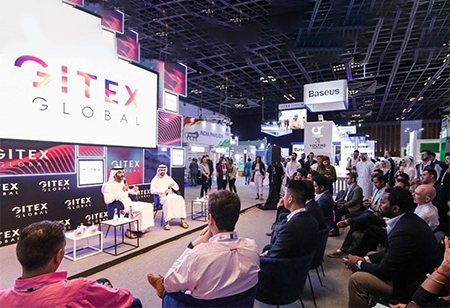 In its 43rd edition, the GITEX Global 2023 brought together AI pioneers, designers of future urban environments, and cybersecurity advocates under the theme 'The Year of Seeing AI in Everything,' all coming together to shape our collective future. More than 6,000 companies from 180 countries and thousands of participants gathered at the GITEX 2023 in Dubai World Trade Center (DWTC) for the five-day event, which began on October 16, 2023. The annual GITEX technology event spans 41 exhibition halls and showcases tech giants and start-ups mainly specializing in artificial intelligence, cyber security, and mobility.
From virtual police officers to independent retail stores, GITEX Global has focused heavily on the adoption of artificial intelligence (AI) to enhance and enhance the quality of life. As the annual tech show wraps up on October 20 at the Dubai World Trade Center, here's a look at the biggest announcements and initiatives unveiled at the event.
AI Governance
Omar Sultan Al Olama, Minister of State for the Digital Economy of the Government of the United Arab Emirates, captivated the audience in his keynote speech advocating for a global consensus on AI governance. He emphasized managing AI use cases rather than the technology itself. He emphasized that discussions should be more solution-oriented than fear-driven. Al Olama, who became the world's first minister of artificial intelligence in 2017, believes that governments should openly address issues related to artificial intelligence. The minister, who was recently named by Time magazine as one of the 100 most influential people in artificial intelligence, highlighted the journey of UAE as an early adopter of AI. Digital Dubai inaugurated the Dubai Government Pavilion at the GITEX 2023, bringing together more than 40 government and private entities in the Emirate of Dubai.
Digital Dubai
This year, the Digital Dubai platform featured 40 pavilions, each representing government or private enterprise from different sectors, coming together to achieve a common goal - to position Dubai as a global digital hub and inspire international capital. Among the services provided was the Dubai.AI platform in collaboration with the Dubai Center for Artificial Intelligence (DCAI). The platform allows users to quickly and seamlessly access services and information about Dubai in various fields.
Dubai.AI was developed in collaboration with the governing bodies of the emirate. In addition, Digital Dubai introduced the Application Program Interface (API) Tester, a portal that allows users, developers, and security officers to evaluate and test their API endpoints. API Scanner detects holes and weaknesses in delivered API requests and primarily helps developers and users fix and secure APIs.
Digitizing the Transport System
Dubai's Roads and Transport Authority (RTA) pavilion showcased a number of AI projects and initiatives, including a smart gate to pay public transport tickets using facial recognition.
The RTA plans to roll out the smart gates next year and test them at public transport stations with fewer passengers before introducing them to all stations after a successful proof-of-concept.
The RTA plans to introduce the same facial recognition technology to all other public transport in Dubai, including trams, buses, Abras (a traditional small ferry-like boat used to ferry people across Dubai Creek), and taxis. RTA aims to move from physical and digital cards to a facial recognition system.
Flying Car
GITEX GLOBAL will hold a demonstration of the X2 flying car. The public take-off, flight, and safe landing of the fifth-generation X2 flying car took place at a demonstration in Dubai. The Xpeng company also gave an update on its sixth-generation flying car.
Virtual Police
Amna, the virtual police officer of the Dubai Police, was all the rage at GITEX this year. A bilingual (Arabic and English) police officer in charge of AI technology was present to answer public inquiries, help people pay fines, or report incidents.
Farm Robots
The UAE Telecommunications and Digital Governance Regulatory Authority presented the future of agriculture with farm robots at GITEX. The combination of artificial intelligence and robotics provides precision in planting, tending, and harvesting crops. Its advanced sensors monitor soil conditions and optimize the use of resources, such as reducing water waste and minimizing chemical use.
Self-Driving Security Patrol
Dubai Police has announced a self-driving security patrol aimed at improving security in residential areas. The environmentally friendly, all-electric patrol has a battery that lasts up to 15 hours and can reach 5-7 km per hour. In addition, the vehicle can detect criminal activity, recognize faces, and read car number plates using smart technology and artificial intelligence.
Autonomous Racing Vehicle
Also announced at GITEX Global was the Abu Dhabi Autonomous Racing League A2RL and the first autonomous Dallara Super Formula SF23. ASPIRE, an autonomous vehicle that operates without human intervention, will perform at the inaugural race on April 28, 2024, at the Yas Marina Circuit in the capital of the United Arab Emirates. The event also features autonomous car races, drone races, and dune buggy races.
Secure and Private Global Information Society
To curb cyber security challenges, the United Arab Emirates Cyber ​​Security Council (UAE CSC) and the Abu Dhabi Advanced Technology Research Council (ATRC) have collaborated to create a more secure and private global information society. Both councils run a number of initiatives ranging from encryption migration and deployment to awareness training programs. Synergies between the UAE CSC and ATRC include operational deployment, cooperation, deterrence, prevention, and response to cyber attacks.
Virtual Travel
The Sharjah Archaeological Authority has unveiled its Metaverse project, which allows people to explore the emirate's rich heritage landscape. Combining artificial intelligence with augmented and virtual reality, the Jabal Khatm Al Melaha Archaeological Trail takes people back to the Neolithic era, where enthusiasts can explore more than 120 petroglyphs. According to research firm McKinsey and Company, the potential payoff of virtual tourism will exceed $20 billion by 2030, thanks in large part to inspirational advertising and virtual events.