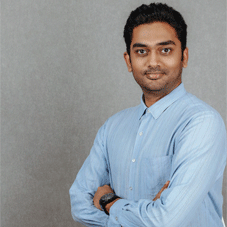 In Today's Fast-Paced Digital Era Where Innovation Is No Longer An Option But A Necessity, Leaders Are More Focused On The Pace Of Change In The Organization And Marketplace. One Way To Ensure That An Organization And Its Teams Will Succeed Is By Creating An Environment To Challenge The Status Quo. Adithyan Asokan, Chief Commercial Officer, Guud Company Is One Such Transformational Leader Who Has Been Questioning The Status Quo Of The Business Ecosystem And Inviting People To Join Him In This Digital Evolution. Adithyan Is A Business Strategist, Change Maker, And Innovative Entrepreneur With Global Experience In Building And Shaping Startups In Challenging & Demanding Environments. His Forward-Thinking And Growth Mindset Has Enabled Him To Constantly Think About Ways To Adapt & Change, Prepare Teams For Success And Create Sustainable Growth For Businesses.
Prior To Guud, He Has Been Instrumental In Establishing Indonesia's First Online Bus Ticketing Platform Which Eventually Collaborated With Redbus. He Helped Redbus To Establish Its Footprint In Indonesia While Scaling Up The Business Multifold, Growing A Team Of 30+ Members, And Managing Business Development Teams Across Multiple Cities. Along The Way, He Noticed That People Of Indonesia Were Facing Difficulty In Accessing Online Payments Which Led Him To Join Hands With Liquidation Partners Like Bukalapak. This Has Been Yet Another Initiative Headed By Adithyan To Enhance The Lives And Living Of People In The Country.As The Cco Of Guud Company, He Is Leveraging His Exceptional Understanding Of Market Intricacies And Unrivalled Marketing & Product Management Skills To Transform The Face Of International Upstream Logistics And Help Maximum People Get Access To Financing As Well As Quality Goods At Price Points. He Is Contributing Actively To The Company's Vision Of Bringing More Opportunities To More People, Strengthening Economies, And Improving Lives. Below Is An Excerpt Of Ceo Insights' Exclusive Interview With Him.
How Would You Define Guud Company As An Organization And Its Current Position In the Market?
Guud Is A Trade Facilitation Platform That Is Headquartered In Singapore And Is Fast-Growing With Business Operations In 17 Countries And Offices In Singapore, China, Indonesia, And Kenya. It Is A Portfolio Company Of Declout Group, A Global Technology Incubator And Part Of A Bigger Conglomerate Of Businesses Owned By The Tokyo Stock Exchange Headquartered In Japan. It Began With The Aim Of Creating An Ecosystem For Traders And Logistic Stakeholders To Function Smoothly In Both Domestic And International Trade. We Have A Strong Leadership Team That Works Closely With Government Institutions Of Different Countries Facilitating The Import And Export Of Different Commercial Goods.To Date, We Have Brought Numerous Digital Innovations Within The Trading Industry And Created A Digital Platform That Enables Hassle-Free End-To-End Logistics. We Are Focusing On Becoming A One-Stop Solution For Freight Forwarders In Indonesia And Building A Payment Solution That Is Integrated Into All The Verticals Thereby Providing A Valuable Addition To Our Target Customers.
As The Cco,What Are The Latest Strategic Plans You Have Adopted To Expand/ Optimize Operations And Engage New Audiences In The Market?
As The Chief Commercial Officer, My Efforts Are Always Directed Toward Identifying Projects & Products That Help Us To Scale Up The Business. Also, My Focus Is On Creating Strategies To Target Customers And Differentiate The Company From Other Competitors While Strengthening Its Value Proposition. As The Strategic Partner To The Ceo, I Also Own The P&L Of The Company. I Work Closely With Our Ceo And The Other Board Of Directors Handling The Development Of Commercial And Business Strategies That Are Optimized For Both Short-Term Results And Long-Term Strategy. Since The Market Is Largely Dominated By Big Freight Forwarders, The Sector Has Been Getting Digitized But Not So Fast As Retail Logistics. Hence,there Is A Huge Opportunity In P2b Logistics For The Company To Grow As A Digital Player And Digitize Its Business Operations. So, I Am Also Focused On Bringing That Transformation Within The Company And Also Strengthening Its Business Model. I Work Towards Creating A Business Model That Is Focused On Not Just Private,Institutions But Focused On Building Our Relationship With Government Institutions. We Are Working Very Closely With International Customers And Handling Strategic Projects With The Shipping Line In Indonesia In Order To Create A Good Ecosystem, And Optimize The Operations For Our Target Customers. Guud Has Its Presence In Multiple Countries And Our Aim As A Company Is To Launch Our Indonesian Product Clickcargo In Other Countries As Well Like Cambodia And Northeast Africa.
My Focus Is On Creating Strategies To Target Customers And Differentiate The Company From Other Competitors While Strengthening Its Value Proposition
Tell Us About Your Leadership Approach.
I Believe, The Leadership Style Is Something Tha Cannot Be Taught; It Has To Be In The Dna. There Are Leaders Who Possess Different Kinds Of Leadership Traits. I Define My Style Of Leadership As More Transformational And Participative. Majorly Because I Have Constantly Built Businesses That Were Not Easy To Build In The First Place. I Have The Ability To Challenge The Status Quo, Look Into The Future, Identify The Potential Impact, And Build Good Teams Who Understand And Support My Vision. Also, As A Participative Leader, I Always Carry The Mindset To Engage My Team By Not Only Passing My Honest Feedback But Also Listening To Theirs. Because I Believe, One Can Be A Great Executor, But If He/She Is Not Supported By His/Her Team And If The Team Does Not Understand The Vision, Then No Amount Of Hard Work Can Lead To A Successful Outcome. Additionally, I Also Believe It Is Extremely Crucial To Constantly Keep Adapting To The Changing Environment, And Focus On The Future Of The Business And Most Importantly Its People Because Without People One Cannot Be A Leader.
What Is The Future Destination You Are Headed Towards?
I Am Aiming To Stay Focused On The Logistic Sector As I Believe There Will Be Constant Development In The Supply Chain Disruptions Especially Because Of The Uncertain Global Macroeconomic Situations. Moreover, I Also Believe That The Supply Chain Industry Is Still Very Much Fragmented And There Are A Lot Of Scopes That Are Visible In Terms Of Digitalization In This Sector. I Am Aspiring To Grab All Such Opportunities And Establish My Organization And Myself As A Global Player In This Domain. And Probably Along The Way, Meet A Lot Of Great People And Build An Effective Ecosystem For My Team.
Having Pursued Mechanical Engineering At The National University Of Singapore, Adithyan Has Been Associated With Huge Conglomerates And In Each Of Them He Has Been Noticed And Recognized For His Transformational Contributions Within The Organizations. Currently, At Guud Company, He Is Helping Nations To Be Players In The Global Trade Market.
• Hobbies: Playing Basketball
• Favorite Cuisine: Korean
• Favorite Travel Destination: Bali,Boracay
• Favorite Book: Wings Of Fire By Abdul Kalam
• Awards & Recognition: Exemplary Manager Of The Year And Outstanding Leader Of The Year By Previous Organizations, Recognized For Innovative Projects By Bukalapak