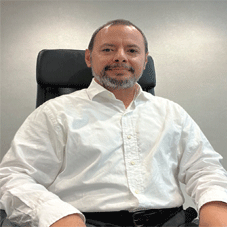 Palm oil and other vegetable oils are widely utilized in the food and non-food industries due to their versatility and affordability. Sometimes the production and use of these oils have been controversial due to the environmental impact of deforestation and the displacement of indigenous communities in tropical regions. Despite these challenges, David Rincón Pérez, CEO of Daabon Organic Japan, tries to impact the industry positively through strategic planning, innovative and visionary approach contributing to the future of sustainable vegetable oil production. With a degree in Mechanical Engineering from the National University of Colombia and an MBA with Distinction from Heriot-Watt University in the UK, David has over two decades of experience in business development, projects, and investment, including working for a major Japanese trading company. We recently engaged in a one-onone interaction with David. Let's learn more about his leadership in the below interview snippets.
Could you briefly describe your educational background and work history? What motivates you to carry out your daily tasks?
As a young freshly graduated engineer, my first professional experience was working as an oil sector intern in a remote location, facing all sorts of challenges, including environmental, that was back in the early 90s. Sometime later, I started engaging in marketing and sales operations, and in 1992 I received funding to travel to Japan to specialize in industrial automation which inclined my life to look more toward Japan and Asia. I began working for a Japanese trading company in Colombia in 1993, considering myself very fortunate to have had the exposure and involvement in important operations including large scale sales, finance, project and business development and strategic alliances. I enjoyed a fantastic 24-year career. Currently, I am working for Daabon Group, a true global leader in sustainability. I am the CEO of Daabon Organic Japan and also management role in our sister company Daabon Organic Australia PTY. My daily motivation comes from my family, friends, co-workers, and my passion for nature, mountains, free-flying, and everything I have been given in life. Life is beautiful, and I am grateful.
Tell us about your style of leadership. What rules or procedures do you adhere to when managing your team?
A leader is someone who has a clear vision and inspires others to work towards the same objectives in the interest of the business as a whole. Strategic planning and creating business plans are two things I love to do. Strategic planning allows us to see how certain markets might act, and how societal, economic, technological, and environmental developments might impact us in the future. The advantage of strategic planning is that it brings the interests of an organization's members into alignment so that everyone is moving in the same direction at a consistent pace. The lack of a business plan indicates that the corporation is just navigating rough waters without a clear port of destiny.
What would you say about Daabon Organic Japan as a company and its place in the industry?
The Daabon Group, a family-owned group of businesses, was founded in the early 20th century in Colombia and includes Daabon Organic Japan. The Group engages in activities in the four main sectors: agriculture, industry, infrastructure and real estate and international offices in the US, Germany, Japan, Brazil, UK. Key traits include vision, adaptability, and resilience. That vision inspired a leading position in the manufacture of ingredients and solutions made from palm oil and other vegetable oils for the food and nonfood industries that are traceable, sustainable, and organic. We work hard so that the market connects the name Daabon with genuine quality and sustainability.
Could you tell me about the sustainable practices that Daabon Organic Japan has adopted in its operations and the company's visions toward a sustainable future?
Daabon Group continues to invest in R&D and seek out products, solutions, and services with better-added value for the market. Real sustainability is ingrained in our DNA. To give just a few examples, we were early pioneers of organic farming and the manufacture of traceable and verified ingredients for the food industry. We also participate in the Climate Pledge, a collection of businesses that pledge to be carbon-free by 2040. We, Daabon Organic Japan, leverage the knowledge of our Group to contribute to individuals, society, and the environment throughout the Asian Pacific region, where there is an infinite amount of opportunities for the implementation of real sustainable practices. This region is key for the planet.
My Daily Motivation Comes From My Family, Friends, Coworkers, Passion For Nature, Mountains, Flying, & Everything I Have Been Given In Life. Life Is Beautiful & I Am Grateful
What is the future destination you are heading towards?
Over 75 percent of the world's population resides in the Asia-Pacific, Middle East, and Africa (APMEA) region, which is also predicted to experience the highest population growth in the future. In my dreams, I increase the relevance of our business and generate wealth through partnerships, investments, and trade. Our Group has been active in the Asia Pacific region, for 22 years in Japan and 20 years in Australia. We shall tackle each day as it comes because there is so much to do and so many obstacles to overcome, the future of global sustainability lies in this vast region.
What guidance would you offer aspiring industry leaders in the industry?
Through high performance and observable results, we as managers and leaders endeavour to defend the interests of our stakeholders. Along with this and being part of the sustainability world, develop creative ways to engage normal people and society, so that our compound contribution will have momentum and bring a real impact. To me, it makes no sense to participate in the consumer race rather than pursue serenity and harmony in the straightforward, immaterial aspects of life.
David Rincon Perez, CEO, Daabon
David was born in Colombia, has a degree in Mechanical Engineering from the National University of Colombia, and an MBA with Distinction from Herriot Watt University, UK. He worked more than 20 years for a major Japanese trading company, involved actively in business development, projects, and investment. Currently, the Managing Director and CEO of Daabon Organic Japan, David Rincón Pérez has experience in strategic planning and negotiation. David is passionate about free flying being into sports like paragliding for almost 30 years.