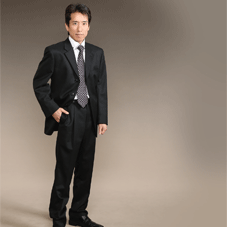 Unifrutti Group Was Established In 1948 By Italian Entrepreneur Guido De Nadai Which Today Successfully Provides The Best Quality Fresh Fruit Through An Extensive Global Network And Sustainable Agricultural And Business Practices, Adding To The Value Chain And Adding Quality To The Lives Of People. The Group Sells Over 600,000 Tons Of Fresh Fruit Sold Globally With Over 14,000 Hectares Of Farms In Chile, Argentina, The Philippines, South Africa, Italy, Spain, And Ecuador, Operating In More Than 50 Countries While Serving Over 500 Clients Worldwide.
Its Flexible Approach Of Vertical Integration And Its Varied Geographical Presence, Allow For Revenue Diversification And Value Capturing From Retail And Wholesale Clients And Distributors/Service Providers. Kennard Wong, Ceo & Representative Director Of Unifrutti Japan Joined In 1998 And Has Been One Of The Group's Torchbearers Successfully Leading The Importation, Marketing & Retail Distribution Of Produce Under The Unifrutti Brand For The Japanese Market With A Core Product Of Bananas Sourced From The Philippines And Other Diversified Fruit Products Sourced From Group Companies Globally. Moreover, He's Also The President Of The Japan Banana Importers Association Which Focuses On Advancing The Banana Industry In Japan Promoting Healthy & Nutritious Consumption While Ensuring Food Safety Through The Coordinated Oversight Of Farm Production. Below Is An Excerpt Of Ceo Insights' Exclusive Interview With Him.
How Has Your Path To Success Been And What Is Your Success Mantra?
To Thrive In A Demanding Market Like Japan, It's Critical To Know The Market Intimately And Monitor The Marketplace Intently In Order To Quickly Respond To Market Changes. As One Of The Building Blocks Of A Highperformance Organization Which Can Respond Accordingly, I'm A Firm Believer In The Leadership Approach Which Strikes The Right Balance Between Hard-Driving Performance Expectations And Compassion & Empathy In Order To Achieve A High Level Of Employee Engagement & Commitment. Being Born & Raised In Hawaii, The Feeling Of Belonging Is Part Of The Hawaiian Culture With The Word Ohana, Or 'Family' In The Hawaiian Language, Reflective Of This Sentiment And Strongly Resonates Throughout All Aspects Of Life, Especially In Business. In This Respect, My Leadership Mantra Revolves Around Building A Professional Family While Infusing The Appropriate Level Of Performance Expectation To Successfully Drive The Organization Forward. One Of My Favourite Books Is 'The Path' By The Founder Of Panasonic, Konnosuke Matsushita, Whose Style Of Management Epitomizes This Approach Which I Take To Heart.
How Would You Define Unifrutti Group As An Organization? What Is The Unique Proposition That Your Organization Offers To Clients?
Unifrutti Group Is Unique Because Of Its Diverse Production Base Across The Globe. Our Group Collectively Produces Over 300+ Varieties With A Throughput Of 700 Metric Tons Annually. Of Course, Beyond Just Offering A Full Portfolio Of Diversified Products We're Able To Execute Farm To Retail Distribution Leveraging Our Marketresponsive Production Base And Network Of Partners To Ensure Our Products Reach Consumers. Particularly In Japan Where Our Core Product Is Bananas Which Adds To The Equation Requirements For Ripening And Greater Fruit Care, This Type Of Nimbleness Across The Value Chain Originates Back To Farms To Achieve A Level Of Market Control Enabling Us To Be Highly Responsive To Consumer Need Distinguishes Us From The Competition. It's A Balanced Push & Pulls Approach - Balancing What We Want To Produce For The Consumer With What The Consumer Wants Us To Produce For Them Requires An Open Ear To Respond To The Diverse Demographics Of Japan In Order To Gain An Understanding Of The Type Of Products Consumers Will Gravitate Toward.
Mantra For Leadership Success Deftly Balancing Performance Driving & Expectation With Compassion, Empathy, And An Open Ear
Could You Tell Us About Your Environmental Protection Programs? What Are The Procedures You Follow In Your Organization To Accomplish Sustainability?
We Have A Sustainability Code Coined The 5p's - Planet, People, Prosperity, Peace, And Partnership And Our Philippine Production Base Is A Prime Example. Planet Focuses On Being A Good Steward To Safeguard Our Environment For Future Generations Such As Our Reforestation Initiative Projects. People Focus On Human Capital By Striving To End Poverty And Ensure Dignity And Equality. Prosperity Focuses On Achieving A Higher Standard Of Living And Fulfilling Lives In Harmony With Nature. Our Welfare & Education Programs To Assist Communities Embody Our People & Prosperity Initiatives. Peace Focuses On Establishing Peaceful, Just, And Inclusive Societies. The Partnership Focuses On Implementing This Agenda Through Solid Partnerships Throughout All Communities.
What Are Some Of The Significant Challenges You Have Experienced While Implementing Business Strategies In The Organization? How Did You Overcome Them?
Our Produce Industry, Like All Other Industries, Faces A Multitude Of Similar Macroeconomic And Geopolitical Challenges Impacting Our Business. The Russia-Ukraine War Has Caused Global Shipping & Logistic Delays For The Transport Of Our Products To Our Markets. The Higher Cost Of Farm Inputs, Especially Fertilizer, Has Resulted In A Significantly Higher Production Cost Base Across The Industry. Overcoming These Headwinds Has Forced The Industry To Further Elevate Its Market Response Time Not Only In Terms Of Redefining Product Line-Ups Aligned With Consumer Needs For Each Market But Also Innovation To Raise Production Efficiency In Order To Control Cost. Businesses Which Can Excel In This Regard Have Been Able To Overcome And Thrive.
For A Market As Demanding As Japan, Market Response Nimbleness Is Critical Due To The Unique & Diverse Nature Of The Consumer Base. As One Example, Consumers Are Hygienically Sensitive Which Requires Bananas To Be Packaged In Vinyl Bags To Maintain The Cleanliness Of The Fruit. As Another Example, Demographically Japan's Population Is Trending Toward One-Person Households Which Are Nearing 40 Percent Of All Households And, Thus, In The Near Future Will Require The Banana Industry To Transition From 5-Finger Consumer Packs To 3-Finger Or Less To Accommodate Consumption In Smaller Portions Due To The Reduced Household Size. The Ability To Recalibrate Our Banana Packing Operations On The Fly Is An Example Of Our Production Innovation Execution To Respond Quickly To Ever-Evolving Demographics While Still Moderating Production Costs To Ensure Affordable Pricing Can Be Offered To Consumers.
What Advice Would You Give To Budding Industry Leaders?
Focus On Honing Two Fundamental Skills I Firmly Believe Successful Leaders Possess. One Is A Discerning Judgment To Hire The Right People Who Are A Corporate Cultural Fit And Then Place Them In The Right Positions To Succeed. Another Is The Motivational Cache To Fully Engage & Galvanize Employees, Specifically Recognizing The Human Capital Base Is An Organization's Greatest Asset And Leveraging It Effectively To Drive Performance With The Understanding It's Ultimately The Employees Collectively Who Will Drive The Success Of An Organization.
Kennard Wong, Ceo & Representative Director, Unifrutti Group
Born And Raised In Hawaii, Kennard Graduated From The University Of Hawaii With A Ba In Accounting. Twenty-Four Years Ago, Transitioned To Unifrutti Japan, An Importer, Marketer & Distributor Of Fresh Produce For The Japanese Market, First As Financial Controller And Since 2015 As Ceo.