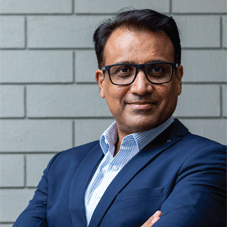 The food and beverage industry is a space that has captivated and sustained people's interests for generations. The leaders in this industry are not only responsible for creating delicious food and drinks, but they also have the task of driving innovation, managing teams, and meeting the needs of customers. These individuals come from diverse backgrounds, each with a unique story of how they found their way to this industry. However, only a few leaders outshine it is the ones with an unrelenting drive to deliver the highest quality products and create memorable experiences for their customers. Shashank Chokhani of Kabhi B (Kanhai Foods) is one such inspiring leader. CEO Insights Asia brings to you the wise words of this man who turned his setbacks into a successful business venture. Shashank is a B.Com graduate from Ahmedabad (India), who had a strong desire to pursue an MBA in the US.
During his TOEFL and GMAT prep, he had to visit Mumbai to appear for the exams. Despite being selected for the University of Texas his plans were hindered by family opposition. While spending time in Mumbai, Shashank became fascinated with the bakeries there and noticed that there were no such bakeries available in Ahmedabad. Determined to bring a quality bakery to his hometown, he took loans to purchase land and travelled to Delhi and Mumbai to gain practical training and experience. With just two varieties of bread, he launched Kabhi B in 1996 with a very small setup, even using his scooter to distribute bread to local dairies. Today, Kabhi B has around 96 stores and has become one of the top bakery chains in Gujarat. Shashank's story serves as an inspiration for anyone with a dream to start their own business.
How would you define Kanhai Foods as an organization and its position in the market? What is the unique proposition that your organization offers to clients?
The beauty of our organization is its range and versatility. We have a diverse range of verticals,including the distribution of bread to retailers through our extensive distributor network, as well as direct sales to customers through our 96 retail stores across Gujarat. We pride ourselves on being a one-stopshop for baking products, and our offerings extend to institutional supplies, with contracts in place to supply to railways, airports, hotels, and hospitals. Furthermore, we have a successful export business, with a focus on cookies, rusk, and khari, which have an impressive one-year shelf life, making them popular in markets such as the US, Canada, and Australia. In fact, we have also started offering private labelling, which has been well-received by our customers. Recently, we have expanded into a new frozen division, where we specialize in ready-to-eat snacks such as pizza and garlic bread, and more. Our frozen products have a shelf life of one year, making them ideal for both domestic and international markets.
By embracing change and constantly challenging ourselves to disrupt, we can achieve great things
Tell us about the Customer engagement Programs you organize to retain customers.
We maintain the highest quality standards and keep our customers engaged with our brand through various customer engagement programs organized by our dedicated marketing and digital team. Our loyalty program is one of our most popular initiatives, with over five lakh members who earn points for every purchase and receive cashback rewards. This program not only helps us create a database of loyal customers but also keeps them updated on our latest promotions and products. The program has been incredibly valuable, providing an easy way for customers to redeem their points across any of our stores.
What are the quality control procedures you follow at your organization while outsourcing raw materials?
Our quality control process is rigorous, ensuring that only the best raw materials are used in our products. Trained quality personnel inspect each raw material meticulously according to our product guidelines and standard operating procedures. We have inhouse laboratories for conducting necessary tests and analyses, including microanalysis, which is crucial for exporting frozen foods. All finished goods and raw materials undergo thorough checks in our lab before market release. Our unwavering commitment to quality control ensures that our products meet the highest standards.
Tell us about your leadership approach to leading your team.
When it comes to my leadership approach, I believe in constantly challenging my team to think outside of the box and embrace disruption. As the saying goes, 'great things never came from comfort zones.' It's important to analyze and study current practices, and be open to making changes in order to stay relevant and successful. Since the COVID-19 pandemic, I believe we are now in a post-COVID era where adaptability and resilience are key. Discipline and focus are also important guiding principles for me. As a leader, I encourage my team to push beyond their limits and strive for excellence.
What are the future plans ahead? What advice would you give to budding industry leaders?
Our roadmap includes expanding beyond Gujarat, increasing retail presence, and expanding focus on frozen division and quick service restaurant partnerships. By staying ahead of the curve, we believe we'll achieve our long-term goals and continue to thrive.
I would like to tell the youngsters that 'Nothing is permanent!' So, always have backup plans. It's essential to step out of your comfort zone and keep challenging yourself because you are your biggest competitor. Have focus and discipline, keep working hard, and also keep pushing yourself to be better.
Shashank Chokhani, Founder, Kabhi B (Kanhai Foods)
Shashank loves music and travel. He has participated in marathons and regularly practices yoga to maintain a healthy lifestyle. In his free time, he enjoys reading books, with favourites including 'You Can Win' by Shiv Khera and 'If God Was a Banker' by Ravi Subramanyam. Shashank is also a fan of 'Business Sutra' by Devdutt Pattnaik.