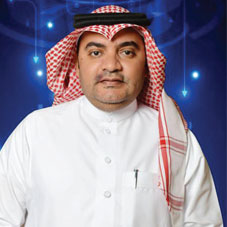 Hawas Bajawi
Chief Executive Officer of Water, Oil & Gas Sector
Just like a captain is for a ship, a CEO is for a business; helping it sail through thick and thin. Such a meticulous leader who has been handholding and driving AlSharif Group (ASG) on the right trajectory as the most impartial 'constructive' critic is Hawas Bajawi, the Chief Executive of the company. Beyond strong communication skills, realistic optimism, out-of-the box thinking, and more; there is an 'X' factor that makes Hawas respected by his team. This successful modernday leader goes past the convictions and show cases mastery by being an agile helping hand; who gets his hands dirty when the team is in a problem.
A visionary in its true sense, Hawas doesn't hesitate to understand various business aspects from Operation to Business Development, Administration, and more to solve problems. At the end of the day, the quintessence of his leadership is putting himself into a task, working with the team, and guiding them to solve the problem. With 18 plus years of experience in engineering, project management, technical support, overseas operation, and more, Hawas forms the most accurate picture of a great Executive and role model. His ability to design effective strategies and consistently ensure better performance and growth for the team is highly inspirational.
In order to honour his contribution to paving the road to progress by keeping up with evolutions, CEO Insights engages in an exclusive interview with him. Peruse his valuable inputs below.
Could you give a brief account of your expertise? What is the motivation that fuels your daily routines? I have over 18 years of experience in strategizing businesses, developing new markets, activating targeted sales plans, and delivering measurable results leading to a significant increase in sales numbers and volumes along with revenues and bottom-line profits. I possess experience in construction companies' management and CEO of Water, Oil & Gas Sector at AlSharif Group Holding (ASG), specializing in a wide array of management skills, and material development. My areas of expertise include Advanced Concepts Engineering, procurement and Construction Management, Customer Relations, Budget Planning, Estimating, and Creating a Healthy Bottom Line Considered an expert in building skills and design, inspection, and completion of many profitable projects.
My focus as a leader is largely inclined toward productivity, performance, and outcome
Tell us about the role you have played with the AlSharif Group. I have been fortunate to establish and manage the water, oil, and gas sectors sector at Al Sharif Group focusing on searching for new opportunities, opening new businesses improving relationships with clients, developing business partnerships with international companies, improving qualification, bidding, engineering, procurement and construction(EPC), operation & maintenance of water projects and more. My focus has been versatile from formulating a strategic business plan to repairing structures, workflow, process, and policy while hiring enthusiastic professionals for our team.
What kind of growth has the company been witnessing under your leadership? How is been your path to success and what is your success mantra? The Group's water oil and gas sectors are today valued at around SAR 735 million. I have been with the company for the past two years and the growth we have witnessed has been immense. We are now under negotiation with the client for projects worth 2.8 billion and 5 billion. Moreover, we are in talks for three mega projects worth 15 billion.
My approach to success in business is 'timely delivery of projects and most important international quality in service'. Diligent commitment to both these aspects will ensure that the clients are satisfied and stay with you for a long-term business relationship. Moreover, as a rule of the house, we focus on providing unwavering support to our clients, which inturn contributes to our business growth and economic growth through innovation.
How would you define AlSharif Group as an organization and its position in the market? What is the unique proposition that your organization offers to clients? ASG is almost a 42-year old business diversified into technology, Water, Energy, Infrastructure, green energy, wealth investment, hospitality, and other sectors. Today, we are an ISO 9001 QMS-certified multi billion company with a presence in Saudi Arabia operating across the Middle East, Asia, Africa, and Europe.
With an investment exceeding SAR7 billion in the region, we are marching ahead to be a global leaders in various industry segments.
Tell us about your leadership approach, and the guidelines or methodologies you follow to lead your team. 'I have to mention that we have highly qualified and talented professionals with a Great Spirit of reativity, innovation, and excellence. To all my team members in all thedepartments, I tell them to use me as part of their team when they have any problem. It is better to take help and learn instead of pondering on something for a long time, especially when you have no experience in it.
I don't just lead the team but work with them, support them and teach them to solve issues in a short time. My focus as a leader is largely inclined toward productivity, performance, and outcome.
Hawas Bajawi, Chief Executive Officer of Water, Oil & Gas Sector, AlSharif Group Hawas holds a master's degree in mechanical engineering and technical qualifications from King Saud University. Currently, he is spearheading Al Sharif Group's Water, Oil & Gas Sectors. He carries extensive experience in Technical, Design, Testing & Commissioning, and Project Management of following Water and Utility Projects.