Eyad AI Zain: A Powerful Executive With A Successful Track Record Of Creating & Maintaining High-Energy Sales & Operation Teams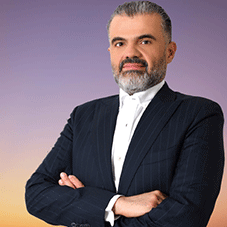 The government of Saudi Arabia has actively fostered and encouraged the development of a highly developed telecommunications industry. The region's telecom firms saw a boost in business as a result of the pandemic, as more people remained in their homes and used their mobile phones and televisions. However, the industry has been over-saturated in recent years. Consumers' disposable income has been cut significantly by the present low crude oil price scenario, which has had a significant influence on the country's economy. In addition to this trend, sales of smartphones in the nation have slowed as the market nears saturation. In light of the current market shrinkage, businesses involved in the production and distribution of mobile devices find themselves in precarious situations and might need the guidance of an effective leader like Eyad AI Zain.
Najd Telcom's CEO, Eyad AI Zain, has more than 23 years of expertise in the business-to-consumer sector. For both new and well-established retail and distribution businesses, Eyad AI Zain has proven experience managing district, regional, and corporate-level sales, marketing, operations, personnel, and merchandising departments. Eyad AI Zain is well-known for his inspiring management style and his ability to cultivate and maintain highly driven sales teams, distributor networks, and manufacturers' representatives.
Below is an excerpt of Eyad AI Zain's exclusive interaction with CEO Insights ASIA magazine.
How would you define Najd Telecom as an organization and its position in the market?
Najd is a rapidly expanding multi-channel Smartphone distributor that controls 25 percent of the Saudi smartphone market. At least 80 percent of the market channels are being covered and served with end-to-end turnkey solutions, Starting from channel fulfilment until after sales services. At Najd Telecom, we put our clients first and think that by providing them with excellent service and goods, we are doing excellent work for our organization as a whole. Najd Telecom had successfully introduced new smartphone brands to Saudi Arabia.
Tell us about your leadership approach. What are the guidelines you follow as a leader?
I led by example and provided team coaching. As the leader, I establish goals and timelines for the group and then formulate plans to ensure they are met. Also, make sure the team has access to all of the resources and procedures it needs to succeed. They have my utmost patience, and I want to provide them with unshakeable support. I don't do anything alone; rather, I rely on my team and give them tasks to complete while providing oversight, direction, and, sometimes, a spot review.
When building a team, I look for individuals with more expertise in sales and marketing than I have, and I place my faith in them. And I use this coaching methodology to impart to them my way of doing things. However, as this is a team effort, I welcome and encourage any suggestions, criticisms, and other forms of input.
When building a team, I look for individuals with more expertise in sales and marketing than I have, and I place my faith in them
Going forward, what are the changes in market behaviour that you anticipate, and what are the opportunities that you foresee?
Because of shifts in client spending, the Saudi Arabian market for the products that we now have for sale is currently declining. In the past, Saudi Arabia, which is now the biggest market in the area for importing and exporting goods, had relatively few alternatives for entertainment. It seemed more like an activity that people would do inside their homes, where they would rely on their smartphones, tablets, and televisions for enjoyment.
However, it has since been converted into an outdoor setting where they may now go on their own to enjoy the entertainment. Therefore, the behaviour of the end-user spending has changed following the market size and the anticipated sales or the demand in the market for the items that we are selling. This is the case because the market size and the expected sales have shifted. And it will continue declining; however, there is a possibility that it may become steady in 2023 as a result of individuals adapting to the new developments. People are also able to expand their markets through the introduction of new goods and technology, such as smart home products and Internet of Things devices. The sooner you can obtain these items and promote this and create a partnership, the better company can recoup or recapture the market losses that occurred during this shift in consumer spending. Also, introducing Fintech enabled platforms where your customers enjoy more comfortable payments options.
In light of your strong experience within the industry, what advice would you give to budding industry leaders?
My advice is simple. Devote more time to researching the marketplace, learning about the competition, and figuring out what the buying habits of your target audience are. Additionally, choose things with diligence and patience, since possibilities will present themselves again. Don't get down on yourself if you're feeling regretful over a missed opportunity.
Adopt technology in your business, AI, Blockchain, Cloud computing, and Big Data, these are the future elements to rely and build your business. Also, avoid following the patterns of other businesses and instead strive to create something new. If you want to succeed, you must not give up easily but rather keep battling, whether good or bad things come your way. It's extremely tough, and in my opinion, the consumer goods market is the hardest to succeed in. And don't stop being creative in your methods! Instead of making rational judgments or impulsive modifications to your new position, take the time to listen to the experiences of others and draw lessons from their experiences as well as your own.
Eyad Ai Zain, CEO, Najd Telecom, Saudi Arabia
An alumnus of Yarmouk University and MUST University, Eyad AI Zain has more than 23 years of experience managing sales, marketing, operations, personnel, and merchandising at the district, regional, and corporate levels for both startup and established retail and distribution companies. In his professional journey so far, Eyad AI Zain has been part of companies like Batelco, Umniah Mobile Company, Qanawat Telecom Co KSA, Go – Eithad Atheeb Telecom, and Etihad Specialized Trading.