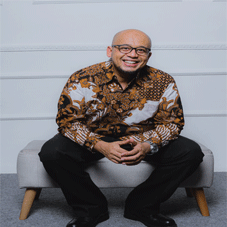 The global oil & gas industry faces extreme mental & physical challenges in environments which are prone to health and safety hazards. With an emphasis on immediately addressing such health problems in employees and conducting health check-ups for oil and gas companies, Medika Plaza began operating in 1997. This novel initiative is headed by accomplished leaders, Shaddik Bagdadi (Commercial Director, Medika Plaza) being one of them. Shaddik joined the organization in 2016 as the Marketing Director responsible for Sales & Marketing. He was soon promoted to the post of Commercial Director of the organization handling the Business Process in PT. Kartika Bina Medikatama in commercial scope.
Shaddik is an experienced Mechanical Engineer. In his previous roles, he has been a Surface Testing Chief Operator, Testing Data Acquisition Engineer, and Multi-Phase Meter Engineer in various industries across Iran, India, and Indonesia. In addition to his expertise in Commercial and Operations Management, he is well-versed in Sales, Marketing, Finance, Business Planning, and Business Processes. As a leader, he has the exceptional ability to modify his approach in response to unpredictable circumstances and overcomes challenges by adapting to ces and revising plans to incorporate new innovations, while still achieving his goals. He aims to take the organization to new heights with such versatility in his approaches. Let's hear it from him.
What is your leadership style? What are the ways you ensure to bring out the maximum potential of your team?
I do not have one style of leadership; I believe I am skilled in several approaches and have the flexibility to switch between styles as the circumstances dictate. I share the ownership of a decision, plan, or goal with my team when sometimes I am uncertain and need fresh ideas from my qualified teammates. I make sure I am able to draw people into the conversation while making them familiar with our vision and allowing them to contribute to the same. I also ensure that employees understand that making mistakes is part of learning. I manage errors by pointing out the need to improve. I talk about improvement as an opportunity to get ahead as I believe, the examples we set leading the organization are critical to the company's longterm success.
Tell us about your expertise in developing pricing strategies to ensure consistent growth in the company.
To be able to develop effective strategies first and foremost we need to build a sales team with a great attitude. A great attitude in sales attracts others, which is incredibly important when it comes to influencing prospects and clients. When the prospects and clients respond on the same wavelength, it becomes easier to achieve sales.There are different processes and methodologies we use to set prices for our products and services based on different circumstances which give out profitable outcomes for the organization.
What are the major challenges you encounter in your role and how do you tackle them? Also, how have you been helping the company's services stay afloat among its competitors in the market?
Initially, Medika Plaza used to cater services only to the oil & gas sector; after I joined the organization, we decided to spread our services across a variety of sectors like the mining sector, mineral sector, and manufacturing sector as well. The expansion of business brought many challenges along with it; we were moving into new sectors not quite sure about the outcomes. One thing that always kept us afloatis the constant iteration of our process- if anything goes wrong, we take a step back, evaluate and then make improvements.As a Commercial Director, my role demands quick decisions and accurate solutions to any situation. This requires enough preparation and alertness; sometimes I need to take decisions based on my instinct or experience. Such situations are very challenging from my perspective. I tackle such situations by rethinking various possibilities patiently, discussing those possibilities with my team, and coming up with solutions that are best suited for the organization.
I Talk About Improvement As An Opportunity To Get Ahead As I Believe, The Examples We Set Leading The Organization Are Critical To The Company's Long-Term Success
What are the important lessons that you acquired from the previous experiences that are useful to you to this date?
My past experiences have taught me that preparation is very important while leading any project or task. We need to be prepared before walking into a room of people and keep our research handy so that we are able to take instant decisions. But at the same time, also be ready to face negative outcomes; in such times we have to be patient and review our strategy.
Tell us about the future destination you are headed towards.
Our roadmap is to expand our business and grow the services of Medika Plaza so that we are able to create a positive impact on the health of Indonesia. We are bringing digitalization into all our processes and building new features to make our operations easier, simpler, and more efficient.
Shaddik Bagdadi ,Commercial Director, Medika Plaza
Shaddik is an astounding leader with rich knowledge in Sales, Marketing, Finance, Business Planning, and Business Processes and a Bachelor's Degree in Mechanical Engineering from the University of Indonesia, and an MBA from Prasetya Mulya Business School.
Hobbies: Trying New Methods For Brewing Coffee At Home, Sunset And Sunlight Photography.
Favorite Cuisine: Satay- Indonesian Traditional Dish
Favorite Travel Destination: Banyuwangi
Favorite Book: Extreme Ownership By Jocko Willink