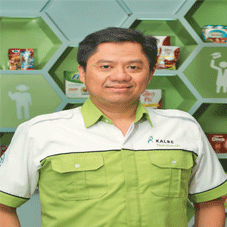 A Strategic Thinker, Problem-Solver, and Effective Communicator, Rivanda Idiyanto, President Director, Kalbe Nutritionals is an accomplished Marketing & Sales leader with exceptional expertise in Customer Management successfully leading the business industry for over 28 years. Rivanda started his professional career in 1994 at PT Unilever Indonesia with his last position as Senior Brand Manager of Lipton. Throughout his professional journey, he has played various leadership roles in some of the leading names in the industry. He has been the Associate Director of NPD & Marketing Services at PT Meadjohnson and served as the Associate Vice President of Affordable & Family Nutrition at PT Nestle. He has also been appointed as the GM of Sales & Marketing at automotive company PT Goodyear. Prior to Kalbe Nutritionals, Rivanda has been associated with PT Frisian Flag Indonesia for 12+ years where he started as the GM of Trade Marketing and moved to be the Business Unit Director of the organization. Currently, at Kalbe Nutritionals, he is leading the entire Corporate Division ranging from Sales, Marketing and Manufacturing initiatives. Rivanda is a creative strategist with excellent organizational abilities and expertise in managing marketing & mentoring teams. Let's hear it from him.
How would you define Kalbe Nutritionals as an organization? What is the motivation that drove you into the journey?
Kalbe Nutritionals is part of PT KALBE Farma,Tbk., one of the leading healthcare manufacturing offering end-to-end nutritional solutions to customers. We as an organization are working towards providing the best nutrition solution for every stage of a human's life cycle and helping Indonesia to become a healthier country. Kalbe Nutritionals has been a great opportunity for me to grow my expertise as a President Director, and not only that it also serves my passion for growing in the nutritional category and making a real impact in the lives of the people of Indonesia. Especially because Indonesia, compared to other Asian countries has challenge on low nutritionalintake, thus being able to work at the forefront of the category to raise the nutritional value of the country has been my greatest motivation in this journey.
What has been the success mantra that helps you to deliver positive outcomes?
I believe what makes a person successful is his/her ability to grow with every coming opportunity. In the last 28 years, I have been growing my skills, and gaining maximum exposure to sharpen my core commercial competencies. This has helped me to become a person with a wider business horizon. I have evolved throughout my career with the aspiration to grow my capabilities in various categories; mostly in the food and dairy industries in which I have learned new leadership skills and built new networks.
What is your leadership approach?
Being a good leader means knowing which of your team members are best suited to take on a project and empowering them to do so. Hence, I believe in motivating my team to be maximum productive in their job. This includes mentoring them, recognizing accomplishments, or providing rewarding and challenging work. I believe in leading from the middle as a both leader and follower, working alongside other leaders and team members of the organization. I prefer giving everyone equalopportunity to grow supporting them from behind and also pulling them up when needed.
Being Able To Work At The Forefront Of The Category To Raise The Nutritional Value Of The Country Has Been My Greatest Motivation In This Journey
Going forward, what are the changes in market behavior that you anticipate, and what are the opportunities that you foresee?
After the pandemic, it is seen that people have become more health conscious and have started appreciating nutritional products in their diet. This has given an abundant opportunity for nutritional products to grow in the market creating excessive demand among customers. Secondly, the restriction on mobility of people during the pandemic has given rise to several digital ways to connect with the market and the customers creating a dynamic shopping behavior among the people. Also, the inflation during the pandemic has made customers more cost-conscious and they are looking forward to buying products that meet their affordability. So, products that have high value but are more affordable is the future of the business, and because of the limited mobility, consumers want to have much more convenience in terms of getting the product. Hence, the companies that can optimize the opportunities created by these changing behaviors will be able to survive and grow exponentially in the market.
What advice would you give to budding leaders in the same industry?
To be a leader in the consumer goods industry, one must be able to quickly adapt to the changing interactions with them, listening to their needs, and then getting them the right product in the most convenient way possible.
Rivanda Idiyanto,President Director,
Kalbe Nutritionals (PT Sanghiang Perkasa) Having a Master of Management from Institute Pengembangan Manajemen Indonesia, and a Master of Business Administration from Monash University and the London Business School Executive Leadership Program, Rivanda is leveraging his 28 years of industry experience in putting commercial efforts for business development for Kalbe Nutritionals.
Hobbies: Cycling
Favorite Cuisine: Indonesian
Favorite Travel Destination: Bali