Percy Marimba: Maximizing Success Through Cutting-Edge Solutions, Exceptional Teamwork, & Unparalleled Performance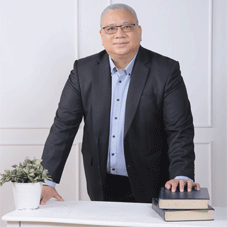 Percy Marimba was instrumental in the growth of Keppel Land and Dairy Farm in Indonesia, with roles spanning from business development, corporate finance to overall P&L responsibility. As Farpoint's Commercial Director & Executive Advisor, he is now playing a key role in driving Farpoint towards success with Office and Retail properties under his portfolio. Percy recently elevated Farpoint into a distinguished boutique real estate developer with a dexterous team. Today, Farpoint's passionate employees deliver innovative products and quality experiences. In an interview with CEO Insights Asia, Percy highlights details of his journey and how he is redefining performance in the real estate sector.
What are the traits that best define your leadership style and what is your success mantra? How do you bring out the maximum potential of your team?
My leadership style pretty much is close to the Situational Leadership, which treats different team member with different approaches, from Telling to Selling to Participating/Consulting to Delegating. I believe that each team member has their own strengths and pain points; we as leaders need to identify these and correctly position and motivate them.Gaining a thorough understanding of your team doesn't happen overnight. We have to diligently spend enough efforts to know their aces and trophies, know their problems on and off their jobs, and know the things that truly motivate them. I strongly believe in the principle of having the right profile at the right place. Once I get a snapshot of my team, I try hard to assign them to roles in which they could excel, move them to a different role if needed, or continue to guide and mentor those already in the right place. I then tie them together as a team through common goals, perseverance and most importantly great fun.
Tell us about your expertise in acquiring and retaining customers. How do you ensure to reflect the customer's point of view when developing new processes?
Customers have their own unique needs and motives (my business is mostly B2B). I start with detailed discussions with them and work on external research, then offer them solutions and deals that are 'too attractive' to forgo. The deals should answer their concerns positively and mitigate their risks to their acceptable levels. When we get their excitement and confidence in our offer, coupled with our expertise in product development, we will likely see a self-progressing process of positive outcomes.
I Will Continue To Learn And Challenge Myself To Develop Better Properties And Branding. At The Same Time, I Will Nurture The Best Teams And Future Leaders Of The Industry Through Strong Mentoring And 'Leading By Example'
How do you measure and understand the growth drivers for your company?
Property investments, which is my business portfolio, grow steadily instead of exponentially. P&L will not be explosive (as compared to development properties for sale), but as long as our brands continue to win in the market, our products feature 'the first, or the best, or the fairest', and our portfolio serves the right segments at the right locations, our business should be able to grow in valuation and gain premiums
What are the major challenges you encounter in your role and how do you overcome them?
Some retail and office properties are old and outdated and surrounded by newer and stronger competitors. When capital is limited, there is little option but to find and create key niches for our properties. For example, we create a unique and non-mainstream retail mix, create unrivaled connectivity with transport hubs. We offer considerable flexibility in lease sizes and deal structures. We maintain 'old but looks so new' properties through meticulous and excellent facilities management programs, and always put high priority on relationship management with tenants.
What would be your advice to future Chief Commercial Officers and aspiring leaders?
Chief Commercial Officer has a dual role: be a good analyst, problem solver and deal maker meanwhile be a good leader. Strong Leadership is a must for all C-roles in the corporate world, and this is non-negotiable. Although it can be 'learned', leadership requires practice. In my opinion, leadership is also a talent. Securing commercial deals requires understanding of our industry, competitors, and customers inside out. We must best try to achieve win-win solutions when possible. Our heads should be kept cool, logical and objective. In deadlocks, be a problem solver, persevere, and realize that there are many ways to Rome. I would avoid being pushy as it will never make your situation easier. As you grow your career, observe how your leaders solve problems and close deals that were initially impossible!
Percy Marimba, Commercial Director & Executive Advisor, Farpoint
A natural problem solver, Percy loves creating optimum solutions, whether they are at the people's level or the business/commercial level. He was admitted to the Chi Epsilon National Civil Engineering Honor Society (USA, 1986) and awarded Best Finance Lecturer by Bandung Institute of Technology (ITB) Graduate Business School (Indonesia, 2012). Percy earned an MBA from the National University of Singapore and holds BSCE and MSCE degrees in Civil Engineering from the University of Washington, Seattle, USA.