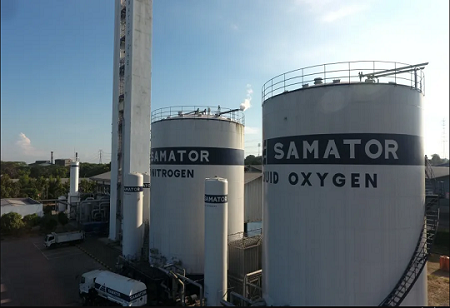 PT Samator Indo Gas Tbk declared that Matrix Company Limited, an investment holding company owned by funds ("CVC Funds") advised and/or managed by CVC Capital Partners ("CVC"), had purchased a sizable minority position in the company from current shareholders for about US$155 million. The dominant ownership and management of the company will remain with the Harsono family.
With €137 billion in assets under management and a solid track record of investing in Indonesia after making 7 (seven) earlier investments there, CVC is a top global alternative investment firm. The investment will assist the Business significantly, including the dissemination of best practises and transfer of global expertise, by using CVC's extensive network and experience. The industrial and medicinal gas market in Indonesia will allow Samator Indo Gas to expand and solidify its position. The company, its staff, and all of its partners across the nation will gain from this.
Rachmat Harsono, President Director of Samator Indo Gas, said "CVC Funds' investment in a home-grown, family-owned business is a testament to the quality and strength of the business developed throughout its long heritage. It also highlights global investor confidence in the attractive growth prospects of Indonesia. We look forward to working with our new partner to further grow the Company and bring Samator Indo Gas to greater heights."
Andy Purwohardono, Partner and Head of CVC Indonesia, noted, "This marks our 8th investment in Indonesia since 2010 and we continue to believe in the strong economic potential in the country. We not only see this investment as an opportunity for us to back a successful business in the next stage of its growth journey, but also to contribute to the continued development of Indonesia's economic output."
The Firm has many expansion ambitions with the formation of this new partnership, including the construction of a new factory at Kawasan Industri Terpadu Batang ("KITB"), Central Java, Indonesia. The Firm intends to begin building in March 2023, and it expects to commit up to IDR500–600 billion in capital expenditures to fund the construction phase through the end of 2024. KCC Glass Corporation, which will construct one of the biggest glass factories in Southeast Asia, was the company's first client in KITB.
Additionally, the Company wants to expand its pipeline business to service tenants in KITB, which is slated to develop into a region that will assist the growth of Indonesia's electric vehicle sector, in addition to meeting the industrial and medical gas demands in Central Java.
By operational improvements and strategic business initiatives, the company hopes to attain a double-digit net profit margin over the next two to three years, with revenues increasing at a rate that might be up to twice that of the national GDP. Also, the management will keep evaluating both organic and inorganic growth plans and, if considered appropriate, pursue them.