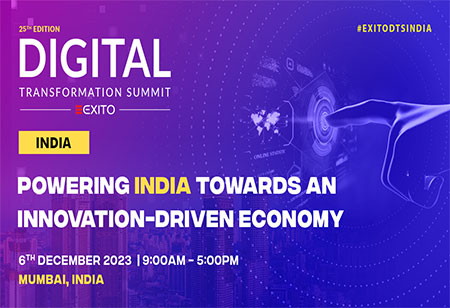 The Digital Transformation Summit, India, a premier event at the forefront of technological innovation, is thrilled to unveil DT 100, a pres- tigious initiative that recognises the remarkable achievements of technology leaders in India.
Organized by Exito Media Concepts, DT 100 aims to honour individuals who have made exceptional contributions to advancing technology in the re- gion.
Representing a diverse array of sectors, each leader has displayed exceptional prowess in le- veraging technology to drive transformative cha- nges within their respective domains, playing a crucial role in shaping the digital landscape of India.
The DT 100 felicitation will take place at the Digital Transformation Summit in Mumbai on the 6th of December. The event promises to be a gathering of industry leaders, tech visionaries, and innovators from across the country, providing a platform for networking and knowledge exchange.
As we eagerly anticipate the Digital Transformation Summit, we extend our heartfelt congratulations to the 100 leaders who are paving the way for a digitally empowered future.
Here is the esteemed DT 100 list:
Haryyaksha Ghosh - Chief Data Officer, Aadhar Housing Finance Ltd
Swapnil Rajepawar - IT & Digital Pro. Head ,SACG Capsules Pvt. Ltd
Swapnil Rajepawar - Head of Analytics, Aditya Birla Health Insurance Company Limited
Dinesh Agrawalla - Chief Technology Officer, Aditya Birla Sun Life Mutual Fund (ABSLMF)
Kamalesh Tripathi - Head IT Infrastructure, Ageas Federal Life Insurance
Ramkrishna Shivchandra Mishra - Head - IT Applications, Ageas Federal Life Insurance Company Ltd
G Radhakrishna Pillai - Chief Information Officer, Agilus Diagnostics Ltd
Bijender Kumar M - Sr. General Manager & Chief Information Security Officer, Alkem Laboratories Ltd
Mohanachandran - Head-IT,Maharashtra, Apollo Hospitals
Sarfaraz Miller - Head - Information Technology, Apparel Group India Pvt. Ltd
Shabbir Badra - Vice President Information Technology, Apraava Energy
Bhushan Deshpande - Chief Information Officer, ArcelorMittal Nippon Steel India
Balram Choudhary - CISO, ASK Investment managers ltd
Saumil Purani - Vice President Information Technology, Axis Bank
Subodh Rane - Senior Vice President of Technology, Axis Bank
Rajneesh Srivastava - Vice President - Information Technology, Axis Bank
Milind Korgaonkar - Chief Information Officer & Chief Digital Officer ,Bajaj Electricals Ltd
Sanjay Kumar Tripathi - Head of Information Technology, Bestseller India
Bhaskar Rao - Chief Information Security Officer, Bharat Co-operative Bank (Mumbai) Limited
Parag Jain - CIO-Head of CIB Global Banking and Shared Services Transversal IT, BNP Paribas
Pankaj Srivastava - Head - IT, Brookfield Renewable
Allauddin Mohamad - Global Head - Information Technology, Camlin Fine Sciences
Vishal Bhatia - Chief Digital Officer (CDO), Canara Bank
Kamal Sharma - Senior Director, Carrier Technologies India Limited
Prateek Shirod - Head IT & Digital, CEAT Tyres Limited
Dr. Jitendra Panchal - Sr. Vice President - Technology, Central Depository Services (India) Limited
Boman Nakra - Chief Information Officer, Credit Agricole Corporate and Investment Bank
Rajnish Gurchale - Head IT - Applications, D'Decor Exports Pvt Ltd
Suresh Nadar - Group CIO, Dr. Batras Group of Companies
Shreevar Narayan - Chief Technology Officer, ecofy
Deepa Duraisamy - Vice President, Head - Data, Edelweiss Tokio Life Insurance
Kamlesh Jain - Global CIO, EPL Limited
Subhash Shelke - Corporate CIO - Head of SAP & Applications, Essar Group
Sivakumar Nandipati - Chief Digital Officer, Fedbank Financial Services Ltd
Tejas Maniar - Chief Digital Officer (CDO), Fino Payments Bank Ltd
Ashok Tiwari - Chief Information Officer, Finolex Cables Ltd
Johnson David - Chief Technology Officer, Foodlink F&B Holdings India Pvt. Ltd
Vikram P Arora - Chief Information Officer, Future Generali India Insurance Company Limited
Vinay Morje - Vice President - Head of Digital Transformation, Grasim Industries Limited | Pulp & Fibre
Dilip Lakkireddy - Head IT Infrastructure & Information Security, Green Ply Industries Limited
Nagraj Rao - Director Of Information Technology, Hatwari Automation LLP
Tejasvi Addagada - Senior Vice President, Head- Enterprise Data Management, Data Office, HDFC Bank
Ayan De - Head - Enterprise Technology, HDFC Life
John Rajesh P - Head - Digital Applications Technology, ICICI Prudential AMC Ltd
Sankaranarayanan Raghavan - Chief Technology and Data Officer, IndiaFirst Life
Prasad Patkar - Head Of Information Security, IndiaFirst Life Insurance Company Limited
Meheriar Patel - Group Chief Information Officer, Jeena & Company
Krushna Sahoo - Director of Information Technology, JM Financial Services Ltd
Manish Kumar Singh - Regional IT Director - Janssen AsPAC Supply Chain, Johnson & Johnson
G.Venkateshwaran - Vice President - IT & Digital Solutions, Jsw Steel Limited, Mumbai
Gaurav Kushwaha - Chief Digital & Information Officer (CDIO), Jubilant Ingrevia Limited
Melwyn Rebeiro - Director-Head IT GRC,Regional CISO & DPO, Julius Baer
Saugata Basu - Group Chief Digital and Information Officer, Kalpataru Group
Pradipta Patro - Head IT & GCISO, KEC International Limited (An RPG Group Company)
Rahul Kumar Verma - Associate Director of Information Technology, Kenvue
Srinivasan Raman - Chief Information Officer, Kokilaben Dhirubhai Ambani Hospital
Suhail Siddiqui - Head - IT Corporate Functions, L&T Finance
Mathur Vadadoriya - Chief Technology Officer, LKP Securities Ltd
Dilip Mishra - Senior Vice President, ManipalCigna Health Insurance Company Ltd
Mayuresh Purandare - Head IT - Infrastructure & Security, Marico Industries Private Limited
Anand Pratap Tomar - Chief Information Officer (CIO), McDonalds India (HRPL)
Rajgopal Nayak - Chief Technology Officer, Metro Brands Limited
Dr.Rajendran N - Chief Digital Officer (CDO), Multi Commodity Exchange of India Ltd
Lalit Wadhwani - Chief Information Officer, Mumbai Newsbox Pvt. Ltd
Vijayraj Bhosale - Head IT & CISO, National Credit Guarantee Trustee Company Ltd
Arpanarghya Saha - Chief Digital Officer, Nippon Life India Asset Management Ltd
Narendra Addagatla - AVP- IT Infrastructure, Nirmal Bang
Satyajit Mozar - Chief Information Officer, OmniActive Health Technologies Limited
Sudip Mazumder - Global Chief Digital & Information Officer, PGP Glass Pvt. Ltd
Dhaval V Pandya - Corporate Chief Information Officer (CIO), Piramal Enterprises Limited
Sumit Garg - Global CIO - Piramal Pharma Solutions, Piramal Pharma
Tejas Shah - Head IT Infra/ Apps, Prince Pipes and Fittings Ltd
Rupesh Nirgude - Chief Information and Digital Officer, Prism Johnson Limited
Jitesh Save - General Manager - IT, Raj Petro Specialities Pvt. Ltd
Dr. Amrut Urkude - Chief Information Officer, Reliance Polyester Limited
Joji Joseph - Asst Vice President - Information Technology, Reliance Power
Kiran Komatla - Group CTO, Restaurant Brands Asia
Rajkumar Ayyella - Chief Information Officer, RPG Group(KEC International Limited)
Linumon Thomas - Digital Leader, Sanofi
Sourabh Surendranath - Chief Digital Officer, SBI Securities
Durgesh Mankar - AVP & CISO - Sodexo SVC India Pvt. Ltd
Dharmvir Kumar Singh - Chief Information Officer, Spandana Sphoorty Financial Limited
Rupendra Kumar Nigam - VP - IT ( Head IT), Spykar Lifestyles Pvt. Ltd
Rasvinder Singh Nagpal - Lead -IT Infrastructure & Networks, SUMITOMO CHEMICAL INDIA LTD
Milind Khamkar - Group CIO, Super Max
Sudheer Muvva - Chief Technology Officer, Suryoday Small Finance Bank Ltd
Deepak Sakpal - Associate Vice President - IT, Sushil Financial Services Private Limited
Sunil Kumar - CTO & Head - T&A, The Great Eastern Shipping Co. Ltd
Sunil Nair - Vice President IT, The Phoenix Mills Ltd
Tanushree Sarkar - IT Director, Thermo Fisher Scientific
Kumaresan M. - Head Of Information Technology, Unichem Laboratories Limited
Rajnish Khare - Chief Digital Officer, Union Bank of India
Govind Joshi - Chief Information Officer, USV PRIVATE LIMITED
Vishwas Mhatre - Head of Information Technology, Vinati Organics Limited
Nisha Dulhani - VP - Big Data and Advanced Analytics, Vodafone Idea LTD
Pankaj Singh - Global CIO, VVF India Limited
Dr. Ravi Sharma PhD - Head of Information Technology, Wanbury Limited
Pankaj Srivastava - Director of IT, Wellington School
Atul Srivastava - Chief Information Officer, Welspun Group
Vijay Kumar - Chief Technology Officer, Xanadu Reality Limited
For more information about the Digital Transformation Summit India and the DT 100, please visit
https://digitransformationsummit.com/india/
Source : Press Release